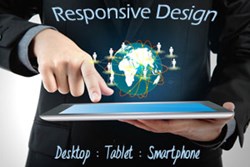 Thanks for all that you have done to help my business and I look forward to continued success with you. M. Cooper
Toronto Ontario Canada (PRWEB) September 30, 2013
What would be the advantage of having a unique custom website design created for a company vs. a functional and professionally looking standard site?
IFM's 15 years' experience in website development, and now responsive WordPress website design, has identified that extraneous fancy features and/or unnecessary custom functionality installed on a website may have an negative effect on the site visitor's "experience". When visitors are distracted, overwhelmed by actions taking place on a web page, or when information is hard to find, the competition's website is just "a click away".
Creative Director, Len Doren of IFM offers, "A specially-designed custom website could have special graphics, functions, effects and much more installed on the site pages. But, the question I'm most often asked is, does all the "extra work and expense" help to convert site visitors from prospects, into clients? Our answer, most of the time, is yes - and no."
Len goes on to say, "Standard, or low cost websites may have less "flash and pop" but in reality, most site visitors could care less about 'flash and pop'." Len adds, "The feedback from users we have talked to, suggests that site visitors care less about fancy effects, and care more about getting at the desired information on the web pages. But it goes without saying that users also rank trust, security and authoritative information very highly when wanting to buy from, or do business with a company online."
To help businesses with the dilemma of whether to go with a custom or standard web design, IFM offers the following:
Custom Design Attributes

Custom designs can have lots of functionality to entertain visitors.
Custom design is perceived to make a company "unique" (but what is truly original these days?)
Custom sites can have authoritative information and convey trust.
Custom designs can take longer than standard designs to produce, test and deploy.
Standard Design Attributes
Standard designed sites are professional looking and can have ample functionality installed.
Standard site parts can make a site look custom and cost between 20-30% less to develop.
Standard sites can convey "trust" and also include authoritative information.
Standard sites can be launched much faster.
So if a company wishes to save cost and have their site deployed more quickly, standard design is the way to go. If a company has ample budget and can be patient while extra site functionality is being developed and tested, that might be the suggested way to go.
If there are any questions as to which is the best way for any company to go, IFM suggests talking to a trusted local web developer for options that are in the best interests of the company and future site visitors.
FM Web Services offers Responsive Web Design, website analysis, SEO Press releases, Search Optimization and Facebook pages for businesses. Located in the Toronto area (GTA), IFM has helped business achieve an effective online presence and has helped clients as far away as Bermuda and Mexico. For more on Social Media, SEO or Web Design for businesses, visit IFM at http://www.ifm.ca