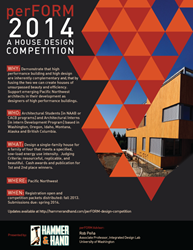 It's a pleasure, through this design competition, to support emerging professionals and demonstrate that 'high design' goes hand-in-hand with 'high performance.'
Seattle, Washington (PRWEB) September 30, 2013
Construction company Hammer & Hand unveiled the "perFORM 2014 House Design Competition" today, created to support emerging architectural professionals in their exploration of high design and high performance building. The competition tasks participants with designing a single family house that fuses aggressive energy efficiency with beautiful design. A jury of leading Northwest architects, builders and educators will evaluate and select winners.
"As builders of high performance projects, we depend on architects as close partners and collaborators," said Daniel Thomas, co-owner of Hammer & Hand. "So it's a pleasure, through this design competition, to support emerging professionals and demonstrate that 'high design' goes hand-in-hand with 'high performance.'"
The perFORM design jury will judge entries based on two criteria: energy performance and design quality. Participants will submit an energy performance analysis of their entry using the perFORM Verification Tool, showing each design's predicted energy use intensity, or EUI. Design quality will be judged based on "resourcefulness, replicability, and beauty."
The perFORM jury includes:

Jim Graham, Graham Baba Architects
Sam Hagerman, Hammer & Hand
Gladys Ly-Au Young, Sundberg Kennedy Ly-Au Young
Robert Peña, Integrated Design Lab, UW (also serves as perFORM advisor)
Jeffrey Stuhr, Holst Architecture
Daniel Thomas, Hammer & Hand
See bios of jury members at http://hammerandhand.com/perform-design-competition-jury.
"We're honored to be joined by this formidable group of jurors," said Thomas. "And we're excited to see the breadth and depth of solutions that students and intern architects create in response to the competition."
Competition guidelines, resources, and downloads are available at hammerandhand.com/perform-design-competition. Winners will be announced on Earth Day, April 22, 2014, and winning entries will be exhibited throughout the Northwest and online. Cash awards will range from $500 to $2000.
About Hammer & Hand
Hammer & Hand is a construction company dedicated to inciting evolution in building through service, science and craft. The firm collaborates with clients and architects to build the best of the Northwest.
Hammer & Hand Portland
1020 Southeast Harrison Street
Portland, OR 97214
http://hammerandhand.com
Hammer & Hand Seattle (at The Bullitt Center)
1501 E Madison St, #250
Seattle, WA 98122
http://hammerandhand.com/seattle