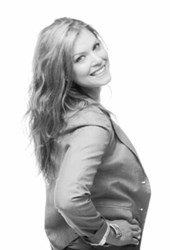 Embracing the Silence is a Powerful Negotiating Tool.
Portland, OR (PRWEB) September 30, 2013
Based on a recent American Express State of Women Owned Businesses Study, did you know that?
> Nationally, the number of women-owned businesses has increased by 50% since 1997.
> One in five US firms with revenue of $1 million or more is woman-owned.
> Women-owned firms in the US are exceeding overall sector growth rates in 7 of the 13 most populous industries.
The media has been talking about women quite a bit in 2013, with a lot of focus being placed on a woman's choice to stay home, pursue a career, or somehow find a way to "have it all" with a career and children. While the discussion has definitely seen its highs and lows over the past few years (think about the mother nursing her 3 year old on the May 2012 cover of TIME, or the debate Sheryl Sandberg's Lean In book and organization continues to spark), what about taking a moment to move past the woman vs. work controversy and acknowledge the exciting progress women are making in the market.
The increasing rate of female-owned businesses and first-time entrepreneurs is encouraging to say the least, but while we hear a lot of talk about the challenges corporate women face in a male-dominated work force, we don't often hear about the challenges female entrepreneurs face. From that first "aha" moment, to writing a business plan, securing funding, and spending long hours getting a business off the ground, women entrepreneurs often find themselves competing on a whole new level.
Regardless of whether a woman is building her own business or climbing the corporate ladder, "the good old boys club" still exists, but change is in the air. Even as the paradigm of sex-based work success (i.e.: success is for the boys) continues to shift towards recognizing the power and potential of women in the workforce, an open mind can actually help women pick up a few tools from the "old boys" toolbox and capitalize on them in today's fast-paced market. Below, PR professional Beth Willers offers insight into her own experience with insight from fellow professional women on how "man-erisms" can help women stay competitive and continue growing to reach professional goals.
1) Stop Apologizing. Women offer up the phrase "I'm sorry" for a myriad of things that may not even be sorry worthy. It is rare to see men apologizing in the workplace because being sorry all the time does nothing to help credibility. So unless you really have done something that merits an apology, stop yourself and stay focused on what you are doing right.
2) Do Not Demean or Make Fun of Yourself. Just like constantly apologizing, talking down on yourself or becoming the butt of the joke equals lost credibility. Take a nod from the boys and realize that you are a competent professional who works hard and deserves positive attention.
3) Avoid Non-committal Statements. Women will often back away from acting as a confident subject matter expert when talking about their industry or work. In these moments, instead of leading with non-committal statements like "I think…," own your input and explain it with confidence. And any time you catch yourself saying "I think that…," take a breath and start over by saying, "Actually, I don't think, I know that xyz will be great for your business because…"
4) Believe in Yourself, But Don't Be a Know It All. Remember that regardless of your sex knowing your stuff is one thing, and being a know-it-all is another. Find your own way to exude confidence and participate in the discussion, while also staying open to input from others so you never stop learning.
5) Increase Your Space. Social Psychologist, Amy Cuddy talks about her research on the benefit of "power poses" for women in her October 2012 TED Talks episode. Her research shows that body language is directly correlated to the testosterone and cortisol levels that give us confidence. Try to consciously focus on not crossing your legs, leaning on your elbows, tucking your arms, or making yourself smaller when sitting or standing. Keep strong posture and don't be afraid to take up space around you just like the boys do.
6) Stop Fidgeting. Cuddy goes on to show how both men and women use non-verbal communication to convey power. Try not to ruin credibility by incessantly fidgeting with your hands, playing with your hair, licking your lips, etc. during in-person meetings.
7) Stand Up for Yourself by Telling, Not Asking. Often times, women over-explain things like wanting to take a day off or making a business decision. Instead giving up power by always asking if you can have it, work on being confident when communicating your plans to colleagues. Rest assured that if they need more information or have an issue with it, they would let you know.
8) Control Your Emotions. Showing unnecessary fear, sadness, hurt, etc. in work situations equals lost power and credibility and you'll rarely see men doing it. Know when to show emotion and when to hold back especially high-stress situations. That doesn't mean you have to deny them altogether; if you need to take a moment to go cry/talk/write it out, do that and then return to the discussion stronger and ready to handle your business.
9) Embrace the Silence. When making a powerful statement, negotiating, selling an idea, etc. stop and pause for effect instead of fearing the dead air. This gives your listener time to process what you have said, and also exudes confidence in your own words just like the boys do regardless of whether you are in person or on the phone.
10) Always Have Your Elevator Speech Ready. Create and practice a short speech that gives people a glimpse into why they should work with you. Keep it straight and to the point. For instance, as the Founder and CEO of ShopAddiKt, I tell people, "I am the CEO of a startup fashion tech company called ShopAddiKt that embraces a concept similar to a Priceline for fashion."
Whether you are a woman in the workplace or an entrepreneur, the tips above show that you can learn from the competition while remaining true to ourselves. Actions often speak louder than words and believing in your ability is necessary for success. As you continue to grow and learn, taking a confident approach to that next challenge will become second nature, and instead of "faking it till you make it", you can do what Cuddy suggests and "fake it till you BECOME it."
Cheers to your success!
To learn more about the author, Bethany Londyn, visit about.me/bethanylondyn.