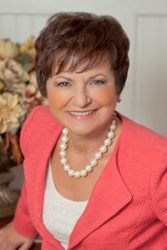 "Pauline Poyner is an extraordinary agent. Both her professional talents and personal contributions to the industry are unsurpassed," Burke stated.
Rumson, New Jersey (PRWEB) September 30, 2013
A seasoned agent and accomplished professional, Poyner's accomplishments, awards and achievements are superior in the real estate industry. She is a Certified Residential Specialist, which is the highest designation awarded to sales associates in the residential sales field recognizing professional accomplishments in both experience and education.
A nineteen year veteran and a lifelong resident of Oceanport, Poyner has a thorough knowledge of all Eastern Monmouth County. With career sales totaling over $311,000,000, Poyner has consistently ranked in the top 1% of real estate sales in Monmouth County and in the state of New Jersey; as well as in the top 1% nationwide during her tenure with her former firm, a national real estate brokerage. In 2012, she participated in over 82 transactions. For the last fourteen consecutive years Poyner held the distinguished award as the Top Sales Associate with her former firm, Rumson Office.
In addition to her unwavering client commitment, she is committed to professional development and education in real estate; as well involvement with local charities. Poyner co-chaired the 2010 Monmouth County Association of Realtors Education Event and is active in the Monmouth/Ocean Board of Realtors, Long Branch Chamber of Commerce, the Shore Regional High School Committee, and the Red Bank River Center. Poyner is the 2013 spokesperson for the Monmouth County March of Dimes.
Poyner is a member of the Monmouth/Ocean County Association of Realtors, the National Association of Realtors (NAR), and the New Jersey Association of Realtors (NJAR). She is a perennial winner of the NJAR® Circle of Excellence Sales Award® 1995 – 2012. She received the highest level of Platinum in 2003, 2005, 2006, 2007, 2008, 2009, 2010, 2011 and 2012. This distinguished award recognizes those members who have demonstrated excellence in the field of salesmanship by earning units for sales, listings volume, and involvement in the industry and association.
"Excellent communication, negotiation skills, exposure, and effective marketing are the keys to my success," said Poyner. "Joining Heritage House Sotheby's International Realty will afford me the opportunity for continued business and personal growth and more importantly offer my clients the exclusive Sotheby's International Realty® marketing exposure designed to attract buyers and sellers on a local, national, and global level. I am committed to realizing the best results while continually identifying market advantages for my clients, I am confident that joining the firm will increase these results and market advantages."
"Pauline Poyner is an extraordinary agent. Both her professional talents and personal contributions to the industry are unsurpassed," Burke stated. "She continually satisfies her clients with her extensive industry knowledge, experience, and top negotiation skills. We are fortunate and delighted to have her join our team, welcome Pauline."
Heritage House Sotheby's International Realty is an independently owned and operated full-service brokerage with four offices in Holmdel, Middletown, Rumson and Shrewsbury. The firm's Corporate Headquarters is located at 834 Broad Street, Shrewsbury, New Jersey 07702. For additional information, including office locations and phone numbers, please visit their website at http://www.heritagehousesothebysrealty.com. To contact Pauline Poyner at the Rumson Office, please call 732.842.8100 or directly on her cell 732.766.3330.