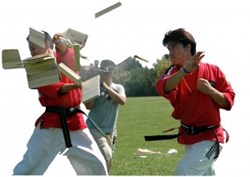 The traditional five tenets of Taekwondo; courtesy, integrity, perseverance, self-control and indomitable spirit, are the cornerstone for the education of someone learning Taekwondo.
Mission Viejo, CA (PRWEB) September 30, 2013
"The traditional five tenets of Taekwondo; courtesy, integrity, perseverance, self-control and indomitable spirit, are the cornerstone for the education of someone learning Taekwondo," Versluys says, "and actually, are really not so different from what I aimed for when teaching my Kindergarten classes years ago or, in fact, what I try to impart to my own two children. When we integrate that philosophy, and apply it to our life, not just inside the dojang, but at home and at work or at school, those five tenets are a like a beacon for living a life with peace and compassion. And that's what we want for our students. It's not just about learning how to break a board or win a sparring round, it's about developing a way a living that will benefit our students for the rest of their life, no matter what they choose to do with it."
Seol, born and trained in Korea, adopted the name and became affectionately known by his students as "Master Mountain" years ago as it explained so well his own methods of teaching. Personally, the experience of reaching the top of a mountain would bring a sense of pride but also the mountain itself was an excellent metaphor for both the physical and spiritual journey a Taekwondo student travels. "When you think about the mountain, even at it's most basic level," Seol explains, "it begins with a strong fortifiable foundation. Without that, it would fall. The way we teach, we begin from the ground up, both with a strong physical stance and a strong emotional basis. Without either of those, it is difficult to grow and learn," says Seol, "By the time our students reach 1st Dan Black Belt level, we want them to have that Mountain in place for life."
As students move through the levels at Mountain Taekwondo their stepping stones are small but quick. "We always want out students to feel encouraged and we have found from past experience that finding the right balance between challenging, enjoyable, mastery and control bring about the most rewarding experience," Versluys says, "and the only way we have found this possible is to work on a very individual level with our students. Just as a teacher in any classroom does, we try to connect with each student, get inside their head and understand not only their learning style, but why did they really come to us? What do they want to achieve? Every student has a story, and we like to figure out how to help them along their path. The only way we can do that is to really get to know them."
Both Seol and Versluys have trained in multiple martial arts codes, but find they both enjoy Taekwondo and Haedong Kumdo (Korean Sword art, taught at black belt level at Mountain Taekwondo) the most. "I think it's the philosophy and the strategy I like best," says Versluys, who was born in Australia, "I like the sense of balance it gives me, both physically and mentally."
On a more simplified level, Mountain Taekwondo seeks to provide something for the entire family, from family classes, birthday parties to parents night off events, there will be something for everyone at Mountain Taekwondo. "Kids, teens, adults and families--we have it all covered," says Seol.
Seol and Versluys are also the Co-founders of Summit Children's Foundation, a non-profit dedicated to helping children throughout the world reach their fullest potential; whether that be through education, the arts, health or basic human rights.
Mountain Taekwondo is set to open in the Mission Viejo Marketplace (corner of Marguerite and Oso Parkways) in Mission Viejo on October 14th, 2013; 26102 Marguerite Parkway Ste. B, Mission Viejo CA 92692.
For more information about Mountain Taekwondo and the various programs offered, please visit Mountain Taekwondo or contact us.