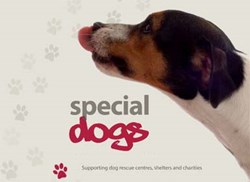 Vancouver, B.C. and London, U.K. (PRWEB) September 30, 2013
"Special Dogs", a gift book for dog lovers, is the newest fund-raising book project from Vivalogue Publishing, specialist publishers with branches in the UK and Canada. The book will be an anthology with contributions from dog lovers on both side of the Atlantic, giving them the opportunity to celebrate their pet in their own words and pictures, while supporting the dog shelter, charity or rescue center of their choice. The book will also include heart-warming stories about the work of the not-for-profit organisations supported by the book.
"We have used this fund-raising book model previously, a Mother's Day anthology celebrating Canadian mothers, which supported Plan Canada's Because I Am A Girl initiative," explains Kilmeny Jane Denny, director of Vivalogue Publishing. "While working on that book, many people approached us asking us to do something similar for pet lovers. As a dog lover myself, who has a much loved rescue dog, it was a project I personally wanted to see happen."
Contributors can purchase a half page, full page or two-page spread in the book, and then submit their own content which will be styled and added to the professionally produced book. Net proceeds of each contribution (40%) will be donated to the dog rescue shelter or charity of their choice.
Dog rescue centres and related not-for-profit groups can participate in the project by promoting the anthology to their supporters, with no financial risk involved: 100% of the costs of producing the book are covered by Vivalogue Publishing. Depending on the demand and numbers of contributions received, multiple editions of the book may be produced. Dog lovers wishing to make their dog one of the stars of "Special Dogs" can place their order online at the Vivalogue website.