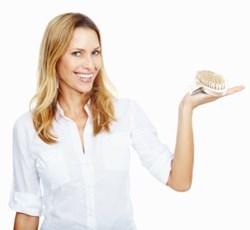 Skin Brushing can benefit your well-being easily and with a small investment of time and money. - Heshelow
St. Petersburg, FL (PRWEB) September 30, 2013
Dry Skin Brushing (also known as Body Brushing) has incredible benefits for health and well-being. Clearing the skin of dead cells and toxins is at the top of the list, helping our largest body organ of elimination to function properly.
Boosting blood circulation, moving the lymphatic system and even keeping cellulite at bay are other benefits of daily Skin Brushing. Sublime Beauty® has a website devoted specifically to Skin Brushing, and has introduced the practice to thousands this year.
"Because our nervous system is closely connected to our skin," says Kathy Heshelow, founder of Sublime Beauty®. "Skin Brushing - that is, touching and brushing the skin with natural bristles - can be soothing and calming when we are stressed and boost your mood. Our skin is full of touch receptors that will help you feel better. It is a great way to wake you up and ease into the day, too."
Sublime Beauty® offers a long-handled natural bristle brush for daily brushing, but has now introduced a portable skin brush in pouch that can be taken anywhere and tucked into any gym bag, briefcase or luggage. It retails for only $12.99.
Purchasers of either Skin Brush receive a product report with tips on how to brush and more. The basic tips to remember:
1) Always brush on absolutely dry skin.
2) Always brush towards the heart.
3) Always use a natural bristled brush.
4) Brush firmly enough that you benefit your skin but not so hard that it hurts.
5) Don't brush over open sores, and don't share your brush with others.
"Skin Brushing can benefit your well-being easily and with a small investment of time and money," says Heshelow. Incorporate it into your daily routine starting now.