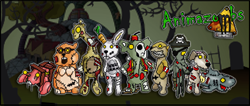 A horde of misunderstood, clumsy, attention-seeking zombie animal softies who just want to be loved!
Miami, FL (PRWEB) September 30, 2013
"A horde of misunderstood, clumsy, attention-seeking zombie animal softies who just want to be loved!"
This quote is the brand description of the new, highly collectible line of plush animal-zombie toys aptly named Animazombs Horror Toys. The Animazombs plush line was designed and conceptualized by Ashley Yates, the founder of Asholay Distribution LTD, the current owner of the line and all intellectual property associated with it. Collectables within this line of plushes range in size, shape, and detail, each of which is designed to be a highly collectable plush pet with a "zany" theme.
Each plush is approximately 30 cm tall, making them fairly large collectables. Each toy comes with a range of accessories and capabilities as well as themed packaging that meets the unique aesthetic of the line. For instance, Victor the Rabbit comes with a removable karat and leg (which can be used on a key chain) while Bruno the Dog offers an exposed brain and a human arm still holding the leash (which can be attached to Bruno's stump).
The entire group of plushes revolves around a detailed world with a dynamic backstory. Just as much a part of the collectable line, the backstory itself is an essential piece of the Animazombs Horror Toys line. Animazombs Horror Toys benefits from an entertaining branding effort and creative focus. The Animazombs Horror Toys story is posted on Invention Intention to attract possible investors and other interested parties. The following is a quote posted on the Invention Intention creation platform:
"The Animazombs are a horde of misunderstood, clumsy, attention-seeking zombie animal softies who just want to be loved!! Brought to life by the delightfully eccentric Professor Unbound, these creations didn't quite come out as he'd intended, but he became quite fond of their zany ways and decided to keep them that way."
Instead of making drastic creative concessions and navigating through the traditional brick-and-mortar store world, the creator of Animazombs took the collectable series to the web to find funding. With a feature on Invention Intention, this plush collectable series is seeing quite a bit of success already. With incredible detail and an expanding product line, Animazombs Horror Toys is positioning itself well in a variety of collectable markets.
About Animazombs
Animazombs Horror Toys is a well-developed line of plush collectables with a multi-platform focus. With an entertaining backstory and an increasing array of animal zombie plushes, the future of this collectable line looks bright. Animazombs, their backstory, and all intellectual property associated with the idea is owned by Asholay Distribution Ltd.
About Invention Intention
Inventors, business owners, entrepreneurs, both commercial and corporate consumers, and investors all make up the community of Invention Intention. Free uploads of both video and photo make sharing and showing new products and inventions intuitive and simple. Discussion groups, constructive feedback, and a collaborative community make Invention Intention both a community and an idea showcase. Invention Intention is constantly seeking new members for their unique community.