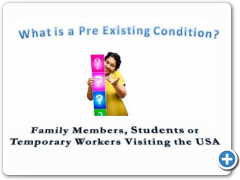 India Network Visitor Health Insurance Plans offers cash less policies that suite to visitors of all age groups with Pre-existing medical conditions.
Orlando, FL (PRWEB) September 30, 2013
India Network Foundation announces today a new improved Visitor Health insurance program to provide accident and sickness insurance coverage for all medical conditions including pre existing conditions for non US citizens visiting the United States. The new plan expands pre existing coverage to include out-patient benefits as well as the in-patient benefits with coverage for accidents, repatriation benefits, medical evacuation, and 24 x 7 Europ Assistance Services. This unique program is expected to help more than 250,000 Indian visitors visiting the United States every year from India with ailments such as diabetes, high blood pressure, cardiovascular issues or other preexisting conditions.
Many Indian visitors to the United States are concerned about the burden on their children should they become sick while in the United States. In response to such concerns, India Network Foundation has been sponsoring health insurance programs for visitors, temporary workers, students, religious priests, cultural artists and others visiting the United States. With more than two decades of improving the plan structure with input from members, India Network Foundation program is truly a community accomplishment with their active participation in the program as well as providing valuable feedback.
Dr. KV Rao, India Network Foundation founder commented, "The new visitor insurance program launched today is a milestone in the history of short term visitor plans to extend coverage for pre existing conditions on par with new problems. It took many years of hard work and community support to bring this plan offering. The new India Network Program is an exceptional offering in the insurance sector to help visitors from India or from anywhere in the world visiting United States."
India Network Foundation sponsors various community programs in the United States. The Health Insurance Program for visitors has been helping thousands of families every year in coping with unexpected medical conditions that trigger events such as cardiac arrest.India Network Foundation invites community feedback on improving these programs and in assessing the needs of the community.
About India Network Visitor Health Insurance
India Network Services, is a US based company that administers visitor health insurance to transition residents, tourists, students, temporary workers and their families. Visitor medical plans are offered for all age groups. Scheduled Benefit Plans, and comprehensive Plan with pre-existing condition coverage provide affordable health insurance coverage for all ages.