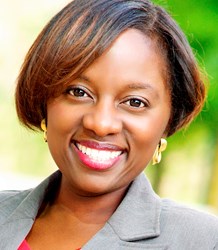 The Triangle was home to me for a number of years, so I look forward to returning and helping these women create their professional voices.
Atlanta, GA (PRWEB) September 30, 2013
Angela Ray will be the keynote speaker on November 6, 2013 for the Raleigh Chapter of Femfessionals monthly luncheon. The event will take place at the DoubleTree Hotel in Research Triangle Park. Ray will speak on the topic, "Developing Your Professional Voice." She will also be signing copies of her latest book, Rays of Motivation.
Ray is no stranger to training on speaking and communication. A former speaker trainer for a Monster.com company, she now coaches small business owners on speaking. She holds a degree in Speech Communication from the University of North Carolina at Chapel Hill and has spent more than a decade developing her own voice as a speaker. A native of Fayetteville, she was the first African American to represent the State of North Carolina in the National Civic Oration Contest.
"The Triangle was home to me for a number of years, so I look forward to returning and helping these women create their professional voices," Ray shared. Ray was a columnist for the Durham Herald Sun for six years.
Ray's keynote at the monthly luncheon will come at just the right time for the Raleigh Femfessional chapter. On Wednesday, October 2, 2013, the luncheon topic will be "PR: Principals for Promoting You, Your Brand," as speaking is an integral part of the business brand. The luncheon on November 6, 2013 will take place at the DoubleTree Hotel located at 4810 Page Creek Lane, formerly the Hilton at RDU. The event is open to the public. For more information, please visit the Femfessional's website at http://www.femfessionals.com.
About Angela Ray International
Angela Ray is an award-winning speaking and author who has spoken to thousands of audiences around the country. She created Angela Ray International LLC to empower individuals and organizations. A few of the company's select clients include North Carolina Central University, St. Joseph's Historic Foundation, Voorhees College, Specialized Contract Services, and Southside Virginia Community College. A recognized authority on communication and leadership, Ray is committed to transforming lives and developing megastar leaders.
About Femfessionals
Femfessionals was created for and continues to be driven by a community of dynamic business women. The organization brings women together, in a positive and uplifting way, regardless of religion, political affiliation, industry, ethnicity, to genuinely support each other in business, community activities and life. It also provides resources and platforms women need to grow their businesses, revenue and connection circles. Founded in 2009 by Violette Sproul as a side project to establish business contacts in Miami, today there are over 40 cities across the United States and Canada that have chapters.