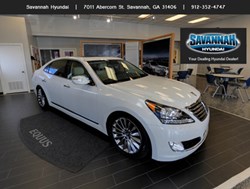 'Hiring a chauffeur is perhaps justifiable in a business sense considering an Equus costs roughly $20,000 to $30,000 less than its targeted direct competition.' Mark McNabb - AutoTalk
Savannah, GA (PRWEB) September 30, 2013
The much anticipated Flagship Luxury Sedan for Hyundai has arrived at the Savannah Hyundai dealership. The new 2014 Hyundai Equus full-size sedan has attracted a following for both its high performance and luxury style. The car is a powerhouse of a sedan energized by its 5.0 liter V-8 engine, with 429 horsepower and 376 lb-ft. of torque. It's a rear wheel drive that delivers a real European driving experience. Industry reviews have it competing with other off-shore luxury sedans, but at smaller investment.
"We are one of the top-selling Hyundai dealerships in the country that sell the in-demand Hyundai Equus," says Mark Medinger, owner of Savannah Hyundai. "And we're trying hard to keep them in stock for our customers."
Exterior design changes for the model year include 19" turbine inspired wheels, upgraded front grille design, simplifying the bumpers by the removal of chrome strips, LED Fog lights, and revised headlight and taillights. The suspension is also revised, receiving new modes optimized for specific driving conditions, including snow mode, normal mode and sport mode.
The biggest changes to this year's model are in the interior with a completely redesigned instrument panel, center console and steering wheel controls. Rear seat upgrades include back seats that recline, move forward and provide ample leg room, Power shades for blocking sun, heated and cooled chairs, dual 9.2" screens for navigation, and entertainment controls for rear seat passengers.
Hyundai customers get to choose from 2 Trim packages filled with luxury options. The higher Trim package features larger seating room, 12" display monitor, a forward view camera, refrigerator in the rear, and separate controls for climate and rear seat DVD entertainment systems.
The 2014 Equus gives the driver 15 mpg city, 23 mpg highway or a combined 18 mpg average. From a safety point of view, it doesn't get much better. Coming on the heels of the 2013 Equus voted as Top Safety Pick by IIHS, (Insurance Institute for Highway Safety), the 2014 Equus come with nine airbags, blind spot detection, rear cross-traffic alert, lane departure warnings, active front head restraints, seatbelt tensioning system, electronic stability control, and vehicle stability management.
Visit Savannah Hyundai at http://www.savannahhyundai.com/ or in person at 7011 Abercorn Street in Savannah GA for test drive availability.