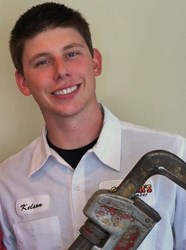 Indianapolis, Indiana (PRWEB) September 30, 2013
Why Do Sewer Pipes Fail?
Nothing lasts forever, and sewer lines are no exceptions. The older the pipes are, the more likely a homeowner is going to have problems with them. Although properly installed PVC pipes are supposed to have a lifespan of well over 100 years, older pipes are usually made from clay tile, steel, or some other material that may only last 50 or 60 years. If a home that was built before the late 1980s, there's a good chance the sewer has clay pipes.
It's common for tree roots to wedge their way into pipes because trees seek the moisture. After a period of time tree roots grow so dense and matted that they plug up the pipe completely. Sewer pipes can also get clogged up with an accumulation of grease, muck, and other nasty stuff that gets washed down there day after day.
Sometimes sewer lines just plain break, collapse, or rot away. Tree roots have a way of hastening this process. The bad news is that every time a plumbing snake is run through sewer pipes to clear out the tree roots, it damages the sewer line even further.
Diagnosis
To determine what's wrong with a sewer line, a professional may opt to send a sewer camera down the piping. This will increase the price for a sewer main repair but can ultimately saves in the long run. By determining the correct problem and location, it will cut down on unnecessary repair or replacement.
Repair and Excavation
One reason why sewer main repairs are so costly is that the sewer main line is entirely under the ground, often below gardens, lawns, driveways, or patios. A yard may need to be excavated or the driveway jackhammered to access the sewer main. Often the repair needed is not the most expensive part of the process and the actual repair may be just the replacement of a length of pipe or the removal of overgrown tree roots. It is the access that is the costly part of the equation and the most labor intensive portion of the job.
Replacement and Cleanup
If a yard, garden or driveway needs to be dismantled to repair a sewer main, then it stands to reason that a large cost of the repair will be replacing and rebuilding the parts of a home damaged in the process. It is an unfortunate truth that a homeowner cannot ignore a broken sewer main. When building a new home from the ground up, it is important to ask ahead of time where the sewer main is located. In the event that the sewer needs a repair in the future a homeowner could opt to not put down cement driveways or costly landscaping over that area.
Slip Lining
Slip lining or Perma-Lining may be an option for a sewer line repair. Slip lining is a process by which a new sewer line is installed inside the existing one. This helps keep the sewer line replacement cost down by reducing the amount of excavation necessary. Slip lining is not an option for all repairs but may be worth discussing with licensed contractor.
Permits
If a homeowner needs to replace a sewer line, then a permit from the city is required. It will increase the sewer line replacement cost, however, doing so will ensure that everything is up to code. There's also a chance that the section needing repair or replacement is actually on the city's property rather than a homeowners. In this case, the city would be responsible for the repair.
Carter's My Plumber Offers Financing
Carter's My Plumber offers free written estimates for sewer line replacements to homeowners. They also provide 12 months same as cash financing, which, is an additional help for budgeting this costly repair.
Information about Carter's My Plumber
Carter's My Plumber LLC offers highly professional and experienced Plumbers in Indianapolis. We have been in the Plumbing Business since 1976, providing Residential and Light Commercial Plumbing Services to Indianapolis and nearby areas, including Plumbers in Greenwood, Southport, Beech Grove, Mooresville, Camby, Whiteland, Franklin, Bargersville and Plainfield. We treat every job like its family – we are a 3 generation Plumbing Business!
Carter's My Plumber is a reliable full service Plumbing Company. We focus on doing every Plumbing job 100% accurate, which, includes hours of training, and continuing education about products & procedures. The quality of our workmanship speaks volumes about our dedication to customer service.