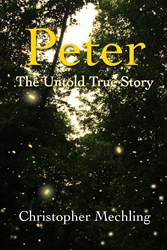 All children grow up, all but one.
San Diego, California (PRWEB) September 29, 2013
Peter Pan is one of the most beloved characters in fiction, known to children all over the world. But was his legend derived from an earlier, true story? Author Christopher Mechling thinks so, and points to the historical life of Peter the Wild Boy, one of 18th century England's most curious figures. With this summer's release of Peter: The Untold True Story, a historical novel, we now have an unprecedented look into the life of the real Wild Boy who lived over a century before James Barrie penned his classic.
The legend of Peter Pan has been retold many times, in books, stageplays, comics, movies and television shows, sometimes more faithfully than others. Most recently, ABC has recast the boy hero as a villain in their show Once Upon a Time.
Peter: The Untold True Story is not a reimagining of the fairy tale of Peter Pan, it is a tale drawn from true events, revealing the origin and adventures of a real boy who would not grow up. Modern readers may be unfamiliar with the life of Peter the Wild Boy, but once upon a time, he was among the most well-known figures in England. Peter the Wild Boy captivated the imaginations of King George I, Caroline of Ansbach, and many of England's best contemporary writers and thinkers, including Daniel Defoe and Jonathan Swift. So popular was Peter when he was first introduced to English society in the spring of 1726 that Jonathan Swift remarked, "...there is scarcely talk of anything else."
Peter the Wild Boy became a legendary figure in his own lifetime, and is still remembered in England today. Author Christopher Mechling believes it was Peter's life and times that provided much of the basis for James Barrie's classic fairy tale. Indeed, among the many links between the myth and the real boy, are the fairies themselves. James Barrie himself acknowledged that his fairies were born out of the epic 18th century poem Kensington Gardens by Thomas Tickell. This poem was written only two years prior to the arrival of Peter the Wild Boy at Kensington.
Breathing life into 18th century events, author Christopher Mechling takes readers on a journey of discovery, from the Enchanted Forest of Hamelin, the grim House of Corrections at Celle, the beauty of Herrenhausen Palace, the banks of the Thames River, to the Royal Palaces in London, and beyond, with a cast including the British Royal Family and many of the brightest minds of the era. The epic story of the Wild Boy's life, spanning more than seventy years, navigates a tumultuous and thoughtful period in English history.
Estimated in 1725 to be about twelve years old, Peter had been discovered living alone in the forest of Hamelin, Germany. It seems Peter left his parents when he was very young and learned to survive on his own, perhaps with the help of forest animals. Once word about Peter spread, the Royal Family of England, beginning with King George I, took a personal interest in Peter. Caroline of Ansbach, wife of George II and future Queen, was touched by Peter's innocence, and took the boy into her care. It was the hope of the Royal Family, not only to provide for Peter's future, but to help him grow up to be an ideal English gentleman. Peter learned many things, but never grew up- he remained a wild youth, and was ultimately celebrated for this.
Throughout his life, even into his seventies, Peter maintained a youthful appearance and energy. Evolutionary theorist Lord Monboddo, who visited Peter in 1782, said of the Wild Boy, "He is of low stature, not exceeding five feet three inches; and though he must be now about 70 years of age, [he] has a fresh, healthy look. His face is not at all ugly or disagreeable, and he has a look that may be called sensible and sagacious, for a savage. He is said to have sometimes run seventy or eighty miles a day. His strength always appeared to be so much superior that the strongest young men were afraid to contend with him."
Christopher Mechling's imaginative dramatization captures the poignant experiences of Peter and the people who interacted with him. Peter: The Untold True Story is available in hardcover from Barnes and Noble, Amazon, and at the author's website. It is also available as an e-book through the Apple iBookstore and Amazon Kindle .