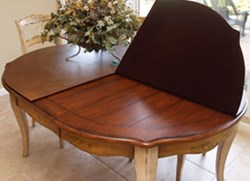 New York, NY (PRWEB) September 30, 2013
Table Pad Factory, the leading online website for table pads and table pad accessories, announced today that it will now offer monogrammed lettering on certain table pad products. Table Pad Factory always is trying to improve their product line and believes this is a great way to enhance the look of their custom table pads.
Monogrammed table pads are a perfect way to add a stylish look and protect your dining room table, conference table, kitchen table, buffet server, piano, pool table and all other tables. Monogrammed table pads are perfect for protecting your table while still maintaining a stylish look. Our table pad factory strives to offer the finest table pads and CEO Mitchell Eisenberg believes a monogram is a great addition to a table pad.
The company anticipates monogrammed table pads will be ordered as wedding gifts, birthday gifts, anniversaries and much more. The company after doing extensive research decided to roll out the product line and the results so far have been great. Client feedback in the market has been positive as indicated by a 30% increase in sales.
Businesses in order to brand themselves have started to order monogrammed table pads. In recent days, companies such as law offices, accountants and other corporate companies have started looking at the products. It is a perfect way to protect your table while having a personalized initial engraved into your custom table pad. It seems that when employees of a corporation see a monogrammed table pad at there office it inspires them to order a custom table pad with monogramming for their own home. When a customer chooses to not use a tablecloth the monogram gives a stylish and elegant custom look to their custom made table cover.
Research has shown that monograms are a great way to enhance a home and office. Monogrammed table pads give table covers a whole new appeal. In general table pads have come a long way. Years ago, table pads were sewn together and the stitching on top often times would come apart and damage the integrity of the pad. Now, table pad factory manufactures table pads with a fiberboard inner core and a magnetic locking system. Table pads also come standard with a lifetime warranty, Table pads come in many color choices such as woodgrains, leathertones and traditional solids. The bottom of a table pad is available in 5 velvet colors: black, brown, burgundy, tan and green. Monogramming a table pad is just a new innovation in table pads that enhances the beauty and uniqueness of the table pad. Monogrammed table pads are available in 2 styles currently and in the future they plan on adding many more styles.