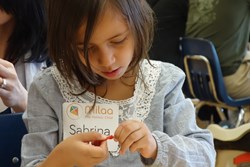 Picture is worth a thousand words and it is an non-invasive method in getting to know a child's inner self.
(PRWEB) September 30, 2013
The classroom was full of energy. Some were building structures using wooden blocks. Others were playing games they had made up. Without much guidance, children slowly gathered around tables that facilitators had set up, picking up paper, crayon blocks, and all-natural modeling beeswax to begin their journey into their own world.
Art is a form of expression for children. "A great way of getting to know children is to look at their drawings," says Paul Jan, Milaa's founder and a graduate of the Massachusetts Institute of Technology. "Their drawings can tell you how they think, what has happened in their lives, and where they are in their developmental journey. These are the main reasons that some form of art can be found in all of our programs," says Jan.
Because art is a form of expression, children will express what is on their minds through their art. Sometimes they will verbally describe what they are drawing, but often they will just draw quietly on their own. "It is wonderful to explore a child's drawing after it is complete," says Jan. "You will learn a lot about how they logically process ideas, or maybe even what they enjoyed recently."
Through art, children are given the chance to process what they see and hear. "Art is a great way that children learn. They process and digest information by putting it on paper and relive it through the details that they remember," says Jan. "Children may do the same drawings over and over, and each time they may add more detail. This is a sign that they are both internalizing the information and processing new information."
The details in the drawings will also become increasingly complex over time. "As I mentioned, children will draw the same objects over and over. As children internalize specific bits of detail, they will begin to refine the drawings with more realistic-looking objects. This is a sign that they are advancing in their learning and awareness of their surroundings," says Jan.
Art is not only a form of expression but also a view into a child's inner world. "At Milaa, we always have art as part of our program," says Jan. "It is both a great medium to connect, discover, and embrace the world from a child's point of view and a way to assist them in their developmental journey."
About Milaa
Milaa, an acronym that stands for Morality, Intelligence, Leadership, Athletic, and Artistic, was founded with the following principles:
1. Holistic approach enhances learning, especially at a young age.
2. Sensory experiences and the sense of imagination are essential for child development.
3. Milaa aims to build a community for parents who appreciate the holistic approach.
Milaa's vision is to educate parents concerning the importance of the holistic approach to learning, provide the essential sensory experience for a child's development, and create a community to preserve and advance a child's development.
Milaa is founded in 2013 and is based in Toronto, Ontario, Canada. For more information, please visit its website at http://www.milaainfo.com.