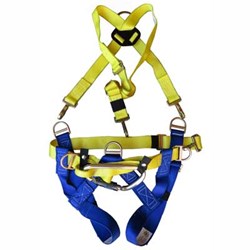 We understand that fire departments and cities have to stretch every dollar for vital public safety equipment
Neptune, NJ (PRWEB) September 30, 2013
During the weekend of September 13-14, the New Jersey Firemen's Association held the annual New Jersey Fire Expo and Convention.
The Fire Expo was held at the Wildwood Convention Center and included firefighter bail-out training and classes as well as a large expo with fire service vendors displaying new firefighter gear as well as proven firefighter equipment.
One vendor in attendance, All Hands Fire Equipment and Training, based in Neptune Township, was on hand showing a variety of products for firefighters. All Hands Fire Equipment was able to give attendees a first look at the Gemtor 543NYC Conversion Harness. This new harness is a Gemtor Class II that quickly converts to a Gemtor Class III by connecting a chest harness at three points.
The new 543 Conversion Harness is worn like its predecessors; the Gemtor 541 Harness and 546 Gemtor Harness, which includes a D-Ringer for a Firefighter escape system with the added benefit of quickly converting into a Class 3 Harness by attaching the chest harness.
Donald Colarusso, President of All Hands Fire Equipment and a former Fire Chief said "Because of the success and popularity of our fire expo specials, we have decided to extend that offer nationwide for another month. We understand that fire departments and cities have to stretch every dollar for vital public safety equipment."
While the Gemtor 543NYC was debuting various other firefighter products were also displayed at the Fire Expo, with some incredible specials on fire equipment, turnout gear, thermal imaging cameras.
All Hands Fire Equipment & Training is an authorized dealer for many of the leading manufacturers in the fire service industry. Offering everything from turnout gear and personal protective equipment such as fire helmets, fire gloves, fire boots, and protective hoods, to thermal imaging cameras, power saws, fire hose and anything found on a fire truck or in a fire house.
All Hands Fire Equipment also offers training nationwide on the equipment that they sell, such as
Gemtor Harness training, firefighter escape systems training, safety and survival training, firefighter rescue training and more.