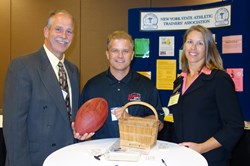 ...So many attendees recognized the value [of ATs] and were in support of the role that ATs play in keeping student-athletes safe.
Buffalo, NY and Saratoga Springs, NY (PRWEB) September 30, 2013
From the early morning hours of Thursday, September 19 through Friday, September 20, the New York State Athletic Trainers' Association (NYSATA) manned an informational display booth at the annual meeting of the NYS Society of Orthopaedic Surgeons (NYSSOS), hosted in conjunction with the Clinical Orthopaedic Society (COS), in Buffalo, NY. Many Orthopedists work closely with athletic trainers (ATs) but some do not and therefore may not be as well-versed in the education, skills, and proficiency of ATs. It was also imperative to make the Orthopedic Surgeon community aware of the current bills (A6678 and S4465) regarding an update to the NYS Practice Act for ATs and lobby for their support - both individually as well as from any professional societies in which they may be involved.
"The athletic training profession is recognized by the American Medical Association (AMA) and has been publicly supported by the American Academy of Pediatrics (AAP). NYSATA has recently fostered a relationship with the NYS Academy of Family Physicians (NYSAFP), and one of the goals of attending this conference was to build a stronger bond with Orthopedists, especially those in NYS, as well as begin to build a rapport with members of the Medical Society of the State of New York (MSSNY)," said Bob O'Malley, MEd, ATC, CES, NYSATA's Regional Representative in the Buffalo area.
The booth was manned by O'Malley and two other NYSATA officials: President Deanna Errico, PT, DPT, ATC and Public Relations Chair Kristy Hart, MS, ATC, CSCS, with additional help from Gene Verel, MA, AT Ret. To help draw attendees to the booth, NYSATA raffled off a football signed by Buffalo Bills' running back C.J. Spiller, which was donated by the Buffalo Bills athletic training staff. Ted Szarzanowicz, MD, from Buffalo Orthopedics was the lucky winner.
In addition to assisting with the exhibit, O'Malley, who is an athletic trainer for Excelsior Orthopedics at Williamsville South High School, also presented two sessions during the conference. The first presentation, titled "Functional Sport Conditioning," focused on bridging the gap from post-injury rehabilitation to return to sports, as injury and re-injury rates are the same for some musculoskeletal injuries due to a release to full play immediately after initial rehabilitation ends without incorporating a gradual return to sport-specific activities. The second talk was based on the case study of a high school indoor track athlete, entitled "Patellar Tendinitis Secondary to Sacro-Iliac Dysfunction."
Between O'Malley's presentations, which were well-received, and the exhibit booth, NYSATA was able to reach a group of over 150 Orthopedists in attendance from across the country, including over 100 from New York State. There were also five ATs in attendance to network and learn alongside the Orthopedists.
On Sunday, September 22, NYSATA representatives then convened in Saratoga Springs to present an exhibit booth at the two-day Fall Leadership Summit of the NYS Council of School Superintendents (NYSCOSS). Errico made the trek across NYS to operate the booth with the help of Kevin Henry, MSEd, ATC, CSCS, Rick Knizek, MS, ATC (Shenendehowa High School), Kurt Pfaffenbach, MS, ATC (South Colonie Schools), and Bob Jones, MEd, ATC (Queensbury High School). Jones and Pfaffenbach serve as representatives on NYSATA's Secondary Education Committee to help answer questions and give assistance to local schools – for them, NYSPHSAA Section 2 - needing help with issues ranging from emergency and concussion management to the information on how and why to hire an AT, including standing orders and job descriptions.
With the potential to reach nearly 450 school administrators from around NYS, the goal was to educate attendees about the profession of athletic training and the benefit of being able to provide quality health care for their student-athletes. Most superintendents who stopped by remarked on either how lucky their school is to employ a certified athletic trainer, or their difficulties identifying qualified candidates when looking to hire one. NYSATA is happy to be a resource of information for those figuring out how to make hiring an AT possible and even has Regional Representatives across NYS who have a pulse on their local area, in addition to the previously mentioned Secondary Education Committee.
"I was pleased to speak with so many attendees that recognized our value within their respective school districts, and that were in support of the role that we play in keeping their student-athletes safe," stated Henry, who is NYSATA's new Exhibit Coordinator. "And those asking for advice in hiring an AT were very receptive and appreciative for the hiring information that we were able and willing to provide to them."
During both conferences, NYSATA's booth provided literature on the latest research and educational materials, including how an AT can provide better safety, prevention, and sports healthcare, how hiring an AT can actually be a cost-saving measure, sample concussion management documents, sports-injury statistics, and fact sheets on the expertise and skill-set of athletic trainers. NYSATA also alerted and informed each audience regarding the current bills (A6678 and S4465) regarding an update to the NYS Practice Act for ATs and lobbied for their support in the weeks and months ahead.
Regarding NYSATA's upcoming involvement in the NYS School Boards Association (NYSSBA) Conference next month in Rochester, NY, Henry added, "We recognize that decision-making by a superintendent is often managed by the district school board, so we are eager to have our presence recognized at the NYSSBA meeting in October to have the opportunity to speak directly with these individuals as well."
NYSATA, founded in 1976 and incorporated in 1989, stands to advance, encourage and improve the profession of athletic training (AT) by developing the common interests of its membership for the purpose of enhancing the quality of healthcare for the physically active in New York State. Comprised of over 1,200 certified and practicing athletic trainers, NYSATA is the state-wide affiliate of the regional Eastern Athletic Trainers' Association (EATA) and District Two of the National Athletic Trainers' Association (NATA).