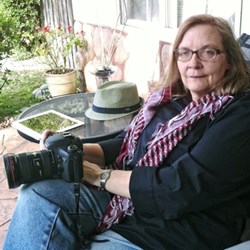 Franklin Lakes, NJ (PRWEB) September 30, 2013
Professional photographer and renowned photography tutor Kim Wilson has published her selection of eye-catching images created by her fellow PrintedArt photographers in the Curator's Blog. Her selection is focused on works that use perspective lines for guidance and is featuring photography created by Leuntje van Kampenhout, Carly Erin O'Neil, KassiJo Wyatt, Alessandro Giorgi and Robert Strovers.
About PrintedArt
PrintedArt is a web-based fine art photography collection, hand-selected by our experienced staff of curators who have created a highly selective gallery for the home decor and hospitality markets.
Every image in the collection is produced in a modern gallery-grade display format with acrylic finish, as a gallery-wrap canvas panel or as a wall mural.
The PrintedArt Photolab allows customers to print their own images in the same professional quality as our fine art collection.
About Kim Wilson
Kim Wilson is a Los Angeles based photographer who specializes in travel, fine art and stock photography. She also runs a photography tutorial channel on YouTube.