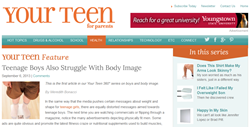 Our series offers advice parents can follow to have effective conversations with their teenagers.
Beachwood, Ohio (PRWEB) September 30, 2013
Although teen body image discussions often center on girls, teenage boys deal with the issue as well.
Your Teen Magazine for Parents explores the topic in our Teen 360°, a new series with views from experts and teens.
http://yourteenmag.com/2013/09/teenage-boys-body-image
"We provide parents with a range of ideas and practical steps that parents can use to deal with body image concerns that their teens face," Editor in Chief/Publisher Susan Borison says. "Boys, like girls, are bombarded by distorted media messages. For example, our series offers advice parents can follow to have effective conversations with their teenagers."
In addition to conversation tips, the series includes:

Health facts (including eating disorder trends among teen boys)
Ways parents can support their teenagers
Examples of steps parents took to motivate their sons to lose weight
Here are some excerpts from four segments of the series:
"Teenage Boys Also Struggle With Body Image"
Meredith Bonacci, PhD, a licensed psychologist:
"Be mindful of your own comments about your body, as well as your own eating and exercise routines. Set an example of self-acceptance, positive body image, as well as balanced eating and exercise. Remember, you are a role model and your teen is watching."
"Does This Shirt Make My Arms Look Skinny?"
Cynthia Nagrath, staff writer, THE INTERNATIONAL EDUCATOR:
Although the goal of transforming one's body through exercise may seem superficial at first, the side effects of increased confidence, improved self image, and the understanding that we have the power to reshape our lives has had a profound effect on him and all aspects of his life.
"I Felt Like I Failed My Overweight Son"
Serena Espino, mother of a teenage son:
"By the time he was 12, his pediatrician was very concerned. My son was significantly overweight and we could no longer sit back hoping he would grow out of it. He was at risk for a variety of health issues that could severely impact his quality of life into adulthood. I felt like I had failed him but I had no idea how to help him. I spent many nights crying in my room because I knew people were judging me and worse, I knew people were judging him."
"Happy In My Skin"
Eric (high school senior):
"No one wants to hear that, so we're constantly looking in mirrors, fixing our hair, and adjusting things about ourselves to be visually pleasing to everyone else. On the flip side, people enjoy receiving compliments on their looks. It increases self-esteem and makes people feel more comfortable about the way they look. I appreciate it when someone says something nice to me."
About Your Teen Magazine:
Your Teen addresses the challenges inherent in raising teens and helps parents of teens to continue the journey toward the goal of successful parent. In the magazine format, parents can post questions, offer personal tactics and hear the different perspectives of professionals, other parents and teenagers on relevant topics. Your Teen hopes to ease the worry.
Your Teen is available in Barnes & Noble.