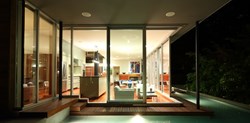 People often forget houses are to touch as well as see. -Bruce Haden, Architect
Vancouver, BC (PRWEB) September 30, 2013
Designed by Vancouver's premier architects, Dialog Design, this stunning and luxuriously appointed residence offers over 5200 square feet of dramatic living space. Eric Langhjelm, who specializes in Vancouver Real Estate, describes it as a magnificent contemporary residence.
"The house is an expression of west coast modernism and a contemporary art form," says Langhjelm.
The clean but warm design takes advantage of modern building materials – glass, concrete, stainless steel, and wood. Each plays a role in establishing a sensual experience for those that are in the home.
Not one detail has been overlooked in this amazing home. The layout has been thoughtfully designed to not waste any space. An expansive wine cellar can be found beneath the infinity pool. Guests can relax in the hot tub or on the decks and enjoy the sun. There is an indoor/outdoor garage, which when the exterior door is open allows people inside the house to see the cars on display through huge glass windows. It looks much like a hotel lobby.
For those who enjoy a cigar, the fumoir offers two comfortable chairs and extra ventilation – a luxury that not found in many homes. The stairs, which were designed to give the effect of gliding upwards, are not the only method of going up – there is also a concealed elevator.
The flow of space from the indoor to the outdoor is seamless, creating that often elusive indoor/outdoor living so much desired by Vancouverites. The private, park-like setting is just minutes from top stores, restaurants, and world class private schools. "The home is awe-inspiring," says Eric Langhjelm, a top Vancouver Realtor.
Vancouver, British Columbia has long been appreciated by its residents for the amazing scenic backdrop offering an abundance of outdoor recreational activities. When you combine this with Vancouver's internationally acclaimed education programs it is no wonder that Vancouver is considered to be one of the most liveable cities to call home. The Economist Intelligence Unit ranked Vancouver 3rd in the world for overall liveability.
To view the Bryan House please call Eric Langhjelm 1-800-305-1802.