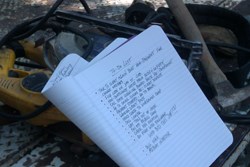 The industry is coming back, but the growth is so anemic that if the construction business were a medical patient in ICU, its state would be 'guarded, but still critical,' and nurses would be in to check every five minutes.
Los Angeles, California (PRWEB) September 30, 2013
In an article, Who Killed The Construction Industry, on The contractorside.com, construction columnist Lee Dodson writes a de facto indictment of federal policy dealing with an entire class which, according to Department of Commerce data, occupied 24-27% of Gross Domestic Product in 2007 and now occupies a mere 8% today, up from an all-time low of 3% in 2012.
On a website mounted to address problems of the people in the construction industry, the writer demands answers from federal officials as to why the government has turned a blind eye to the condition of the industry.
"Per the Department of Labor, the industry is coming back, but the growth is so anemic that if the construction business were a medical patient in ICU, its state would be 'guarded, but still critical,' and nurses would be in to check every five minutes," the writer states in the article. "The government has done nothing about opening up opportunity by easing restrictions on regulation or capital. It's like small construction never existed."
The article, also run on national publication "The Brenner Brief," doesn't avoid criticism of trade's people either. "Union members thought they were safe, that the unions would protect them… the unions didn't. Private contractors remained because fighting city hall costs money… a lot of money. So we sat back and took it in the shorts just to stay in business. Every time the government got involved, the dollars floated away, and we did nothing because there was nowhere to go with a complaint. We wouldn't be heard, or they would retaliate, so we shut the heck up. It borders on criminal."
The writer knows whereof he speaks. The website initiated Contractors, Tradesperson Survey to gauge the business environment and to assess what ground conditions for the working person was like.
In California, the average age of a licensed contractor stands at late fifties. The Contractors State License Board reveals that the license renewal rate currently stands at less than 5%. The unemployment rate for construction business averages nearly 45%, down slightly from 60% real figures, so say publications like Investor's Business Daily.
For minorities, the figures are catastrophic, and there is no room for entry level young people because any job is snapped up in a matter of minutes. With the advent of Affordable Health Care Act, major contractors are cutting drastically because the business cannot support the staff they presently carry.
The contractorside.com came into existence as a national, even international, platform from which trades people can register any comment about any person, business, agency, and can be seen in every part of the country. The site is designed in such a way that videos, sound bites, still graphics can be mounted quickly and easily to get ground level thinking in the public eye, and when the information is nationally visible, retaliation is quelled.
Late statistics, quietly released by the Department of Labor in a minority business report, reveal a small business industry in serious trouble in the current economy for the trades. "These are men and women who do things, make things, work hard and expect an honest day's pay for an honest day's work, but I have discovered it takes more than just the application of sweat and determination. The trades have to get vocal, to say something because we're getting hammered on all sides. If we start now with any Comment, big or small, it will start to make a difference, but it needs to start… and it needs to start now," Dodson stated. "We've been quiet long enough, and it's our own damn fault if we let anyone push us around whether it's agencies, inspectors, zoning laws, or even clients. They know who they are. When their name is in the site, everyone will know."
Massachusetts contractor, Brad Porter, said "Nobody's telling our story. News guys apparently have no idea what's happening to us, or they just don't care. If people like me start talking, maybe things will change, but for now, there's only cash flow jobs. If we independents get together and start talking, maybe we can make a difference."
When The contractorside.com launched its Contractor, Tradesperson Survey on August 11, 2013. Response was immediate, traffic so heavy that Google, the questionnaire platform, had difficulty interrupting to produce a "snapshot" so statistical lifts could be made. As of 5:00 pm PDT September 29, the provider forced a pause at 3,000,000 for data retrieval.
Results were overwhelmingly negative as to the view of the business and as to the personal status of the people who see a way of life that has nearly disappeared. Fully 75% consider a completely different line of work. 55% have taken other or additional work in unskilled jobs to survive financially. 52% are unable to pay their bills. Complete to date results of the survey can be read on the contractorside.com Home Page under Sub Heading: Articles.
Google Statistics has notified the website that the Contractors, Tradesperson Survey has been viewed by more than 1,500,000 news readers in last two weeks, and if these numbers translate to contractorside.com users, it can become a powerful voice in dealing with authority.
323-243-0404
vndk8r(at)gmail(dot)com
http://www.skoshitiger.com/
Twitter: skshtgr11