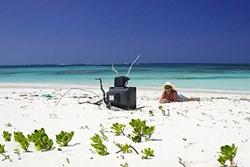 Playa del Carmen, Riviera Maya, Quintana Roo, Mexico (PRWEB) September 30, 2013
American and Canadian citizens who want to buy real estate in Playa del Carmen are thrilled to discover that they can now access American and Canadian TV packages when they purchase houses or condos in the new Caribbean Living project located in the beach paradise. This brand new service makes these tropical paradise town houses and condos feel even more like home.
Through feedback from their many clients, Caribbean Living discovered that the lack of American and Canadian television programming was their clients' single biggest complaint. For many of the people moving to this area, leaving behind the TV system and shows that they were familiar with was a necessary sacrifice in their move to paradise. Americans love their football, and a Canadian without hockey is just not complete. But with little to no access, many people had to say goodbye to a very familiar part of their lives- until now.
Today, this lack of familiar television programming is no longer an issue for the clients of Caribbean Living. They have negotiated special agreements that enable them to offer these special TV packages with the purchase of their units.
"We were so happy to have our regular programming available, even here in paradise!" Comments Rejean Brodroeu, a French Canadian who has recently bought real estate in the Riviera Maya "Caribbean Living made it possible for us to bring another familiar part of home with us. Our kids were so worried that they would not be able to watch their favorite TV shows, or at least watch them in their own language."
Jason Fry from Alaska, USA had this to say: "Although the lack of American TV was not a deal breaker, it was a huge relief to know that I wouldn't be missing the Super Bowl next year. I am very happy that Caribbean Living listened to their clients requests and made this happen for us."
Arnold Wilson from Kentucky describes his new home: "It's perfect! Me and my wife have the most incredible vacation home that we live in all year round. The only thing lacking was familiar TV programming; after you've been around for 70 years, you tend to stick to what you know. Now we have our American programs and we love it."
If you would like more info on houses or condos in Playa del Carmen or elsewhere in the Riviera Maya then visit http://www.american-development.com.