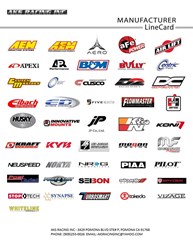 Save More Money by Shopping Auto Parts Online
Walnut, CA (PRWEB) September 30, 2013
AKSracing.com has recently redesigned their website to improve the customer's experience by changing navigational functions in order to find car parts. Search through the color coated category pages with easy browsing for specific auto parts. With over 5000 different items to choose from AKSracing.com has a wide variety of parts ranging from cold air intakes, Honda performance parts, exhaust tips, and bucket seats. These parts can range from aftermarket auto parts to brand names such as Megan Racing, M2 Performance, NRG Innovations, and K&N products. With so many different brands and auto parts to choose from redesigning the website to better suit consumers was a goal intended by aksracing.com.
Shopping Auto Parts Online Has Increased Greatly Since 2009
As the years passed, shopping online has become more and more trustworthy for the end user. With secured identity theft companies and lower prices it only makes sense to wait a few days in order to save up to almost 30% from the retail price on auto parts. Everyday more consumers prefer to install their own car parts as a form of a hobby and saving money. Other reasons they prefer to shop online could also be that more auto shops are willing to install auto parts for cars that are not purchased through the shop itself. Comparing prices from different sellers at the comfort of home makes shopping for auto parts online convenient and easy. Online shopping has definitely improved with reasonable pricing and convenience since it was first introduced to the world.
5 Reasons Online Auto Part Shopping Has Increased
1) Save More Money
2) Secured Servers
3) Self Installations
4) Auto Shops Willing to Install
5) Compare Products Side by Side
Final Results & Conclusion
Shopping online for auto parts has not been this popular since 2009. Shopping online for auto parts has increased due to the advantage of comparing prices and products side by side. The new and improved design for AKSracing.com definitely contributes to these factors of convenience and safe online shopping.
A Little About AKSracing.com
Established in 2012 AKSracing.com is an online retailer based in southern California that sells car auto parts. The company is quickly becoming known in the auto industry for quality auto parts and specializes in the JDM industry. AKSracing was started by car enthusiasts who wanted to provide consumers with affordable parts to enjoy the same way the owners do.