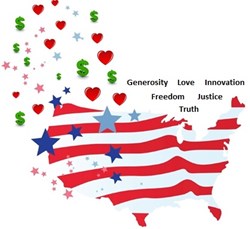 CitizensReUnited was formed to reform a more perfect union, a Democracy 2.0. One with new checks and balances to protect citizens liberties and freedoms and combat corruption.
Orange County, CA (PRWEB) September 30, 2013
Citizens ReUnited introduces solutions to reverse the trend of wealth redistribution to the top 1%, repair the economy and limit big money's influence in politics. Randy Smith, the founder of Citizens ReUnited, also founded Mobile Wallet Media and TechCrunch Disrupt Startup Alley Winner MobilePayUSA.
The disparity of wealth between the top 1% and the bottom 99% of income earners is the highest since 1928, just prior to the crash of the stock market and the Great Depression. A broken economy has spurred government spending to rise to record levels in the last several years and has added over 6-trillion to our national debt since President Obama took office. Also with the meager economic recovery of 1-2% GDP growth in the past couple of years, we've seen wages of the bottom 99% remain stagnant, while the income of the top 1% rose by nearly 20% in 2012. There's been a 35-year squeeze play on the income of low wage and middle class American workers.
Mr. Smith shares about such statistics "This is not sustainable behavior, but rather enslaving, irresponsible and selfish behavior by big money, big corporations and leaders that insist the continuance of piling on debt and hoarding wealth over solving and confronting problems and investing in and embracing innovation. But, identifying the root causes of our economic and governance problems is just the first step. The next step is coming up with sustainable solutions to solve these problems. Solutions that correct and reverse these problems."
Mr. Smith believes this may be accomplished through two major pieces of legislation. See below his proposed legislation below that he says will level the playing field with elections:
Fair and Open Election Reform Act
Preamble: Billionaires and corporations should not be able to exert undue influence on elections or legislation. It is the very lack of a check and balance on such behavior that has corrupted our government and enabled wealth redistribution. There are three key parts to this proposed legislation.
1: Reduce total ad/marketing/operations aggregate spend in support of candidates to $1/total constituents/year/candidate for any given office. Individual and corporate contributions are limited to $250/year/candidate.
2: Our election process needs to be open, social and embrace technology. There needs to be a central election website where anyone eligible may easily file paperwork to run for office and create a political profile page to run their campaign from. This page would be fully integrated with social media, to share news stories, display a candidate's platform, videos and endorsements and raise funds. The site should also enable open primaries.
3: Media organizations will be required to share about this central election site whenever any interview or story including mention of one or more candidates running for office is published or aired.
In speaking about the pervasive and controlling reach of big money on not just commerce, but also politics Mr. Smith shares "Big profitable corporations and billionaires spend billions annually lobbying congress and supporting politicians to gain favoritism towards their special interests. Big money contributed without limit to Super PAC's, paired with a biased mainstream media, provides unmatched visibility and reach. This is how big money dominates politics. 'We the people' or the 99% are left with little voice in governance and little choice on election-day. What we need is limited government as our founding fathers intended, not limiting the voice of citizens, while raising the voice of big money and corporations."
The second piece of legislation is a solution that will fix our economy, reverse the trend of wealth distribution to top 1% and reduce government spending. Mr. Smith calls this solution the RevShare Everywhere Stimulus and Tax plan or REST. The plan provides a tax rate reduction (or tax credit) of 15% on all income above $400,000 - $450,000 earned by individuals or $400,000 by corporations in exchange for a 20% contribution towards three categories: 1) Half is shared with employees or co-workers earning under $100,000/year, 2) 25% is invested in small businesses with revenues under $10,000,000/year and 3) 25% is contributed towards education and skilled labor training of workers earning below $50,000/year in the areas of healthcare, technology or management or given to charity focused on poverty.
Mr. Smith concludes "These proposals will only be made complete and possible if 'We the people' and the media spread the word. If we continue with the status quo and allow big money to control our country, the freedoms and liberties already eroded, will decay much further. We need great humility by leaders and the media to strongly support these ideas. When pride and refusal to be open and objective stubbornly persist, innovation is never discovered or adopted. It may only take one courageous media person or billionaire to change the course of history. Be the real hero our nation needs by pledging your resources or be a coward by continuing to bow big money and corruption."