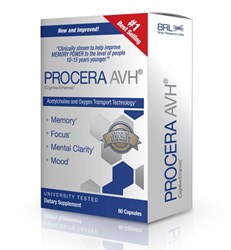 My objective was to use the best performing combination of memory, focus and concentration boosting nutrients, while also having those ingredients address the basic needs of the aging brain.
Sarasota, FL (PRWEB) September 30, 2013
Josh Reynolds, the well-known American inventor who developed the popular brain supplement PROCERA AVH, says it reflects his lifelong curiosity and study into the inner workings of the human brain.
Reynolds is the author of the book 20/20 Brain Power – 20 Days to a Calmer, Sharper Mind and the article Retarding Cognitive Decline with Science-based Nutraceuticals, published in the peer reviewed science journal JANA in 2009.
Reynolds is best known as a brain health and fitness researcher, inventor and technology developer. He pioneered the fields of biofeedback and stress management, and the computerized measurement and training of brain processing speed.
His long history of brain research began with establishing one of the first and largest biofeedback clinics in the US, located on Park Avenue, New York City in 1975. It was there that he started measuring the brain's response to various foods and supplements using advanced EEG, brain wave recording machines developed by a leading brain scientist at Princeton. Reynolds went on to become a nationally recognized biofeedback and brain-mind "guru" and was even featured on the Merv Griffin Show as an expert in the field.
Later, with the advent of the internet, Reynolds founded the well-known company and website Brain.com to take advantage of a historic opportunity to use the global reach of the web to measure thousands, and ultimately over a million brains. It was here that his team of cognitive researchers discovered the shocking reality that the average person's brain power can decline by up to 50% by age 55.
His invention of computerized tests of memory, concentration and other cognitive functions, earned him not only several US Patents, but also the acclaim of medical schools, neurologists and cognitive scientists around the world.
"Very few, if any, regardless of their degrees or experience, understand the brain and cognitive function better than Joshua Reynolds." - L Cass Terry, M.D., Ph.D., Pharm.D., MBA, Former Chair and Professor of Neurology, Medical College of Wisconsin, WI
In the late 90's, after having his unique cognitive tests used and validated by medical schools, such as Stanford, UC Irvine and Scripps, Reynolds focused his technology on discovering the absolute best "natural ingredients" for the brain, in terms of both short term performance enhancement and long term brain health and longevity.
"Heretofore", shares Reynolds, "the study of nutritional supplements on brain function evaluated just a single ingredient with crude pencil-paper tests with a relatively small number of subjects. Now, for the first time ever, we had a highly advanced and objective test technology which we could use to screen hundreds of ingredients with thousands of volunteer subjects, ultimately enabling us to come up with nature's 3 top memory molecules." Reynolds would later put these into one "brain pill" he called Procera AVH (http://www.proceraavh.com), then subjected it to a full-scale FDA-type University clinical-trial in Australia.
"My objective was to use the best performing combination of memory, focus and concentration boosting nutrients, while also having those ingredients address the basic needs of the aging brain", says Reynolds.
As Reynolds teaches in his medically acclaimed book, 20/20 Brain Power, as the brain ages it sinks deeper and deeper into what he calls an energy crisis. This is caused by reduced brain blood flow, which can cause oxygen and neurotransmitter levels to seriously decline. What's more, the brain is also hammered by environmental toxins and highly toxic free radicals, on a daily basis.
Reynolds and his team designed Procera AVH to help reverse the brain's energy crisis, by boosting waning oxygen and neurotransmitter levels, while fighting the free radicals and toxins that harm the brain. And today, Reynold's Procera AVH is enjoying tremendous success, considered to be the top brain health and performance supplement in the US.
Reynolds has worked with the best in the cognitive research field - including well known neurosurgeon, Dr. Vernon Mark of Harvard Medical School and L Cass Terry, MD former Chairman of the Dept. of Neurology at a top medical school in Wisconsin. Reynolds also worked with top cognitive scientists and researchers at Stanford, Scripps, Berkeley, UC Irvine, UCLA, USC and other universities.
Reynolds has a unique ability to explain the human brain, and advances in brain science, in terms the general public can follow. He is featured nationally in TV, radio, and print and is available for media appearances and seminar. Please go to http://www.brainresearchlabs.com to read more about Josh Reynolds and his cognitive research and brain health products.