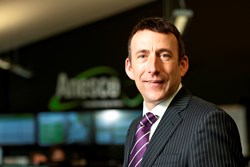 (PRWEB UK) 30 September 2013
Solar installations being managed and maintained by Anesco through its groundbreaking AnescoMeter service have now generated over 50GWH of renewable energy.
The 11,000 systems, which have a combined capacity of 81 MW, range in size from small residential systems to sizeable corporate and industrial sites, and large solar farms. Since being monitored by AnescoMeter, the systems have achieved a total carbon saving of 27,000 tonnes.
"AnescoMeter was designed for people investing in building infrastructure," said Adrian Pike, CEO of Anesco. "It was built specifically to monitor schemes and control how they are repaired and maintained, to ensure they work to the original design."
He added, "We've found existing schemes to be operating at a level as low as 30% of their original design, which is just money down the drain for investors. If you are not monitoring a solar installation and its output then how can you manage it?"
AnescoMeter provides a bespoke microgeneration maintenance package for investment organisations, businesses, local authorities and homeowners. The service offers remote, real time monitoring of the condition and output of green energy schemes.
The service ensures the performance of equipment is optimised and individuals, organisations and funders receive the maximum return on their capital outlay. The service monitors and manages all repairs and maintenance, with Anesco's own team of maintenance engineers ensuring any faults are quickly rectified.
The AnescoMeter service has not only been designed for solar schemes, but is available for RHI, ROCs for ground mount and forms part of Anesco's overall efficiency model ESCO. It can be used to monitor and maintain any size of solar system, as well as biomass boilers, heat pumps and other efficiency measures.
Reading-based Anesco provides organisations with a comprehensive energy service, from audits through to recommendations, installations and capital funding plans and is on target to hit £100 million turnover in 2014, as demand for its services continues to grow. For more details, visit http://www.anesco.co.uk.