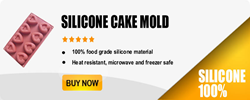 (PRWEB) September 30, 2013
TOGOHK.com, one of the most popular silicone cake mold wholesalers, today announces that they will take part in the DMP 2013 - The 15th China Dongguan International Mold and Metalworking Exhibition. According to the CEO of the company, over 30 new products and designs will be showcased at the show.
TOGOHK.com is a leader in the field of silicone cake molds. Thanks to the innovative designs and 24/7 customer service, the company has become a leader in the industry.
According to the company, the DMP exhibition is one of the most important shows in the plastics and rubber industry, which is held every year. The CEO says that the 15th China Dongguan International Mold and Metalworking Exhibition (DMP 2013) will be held at Guangdong Modern International Exhibition Center (GDE) from Nov. 13-16, 2013. It is a well-known trade show that is tailored specifically to meet the requirements of customers in various industries.
A sales manager of TOGOHK.com stated, "We are very excited to make our silicone molds avaiable to more people. Our products include food-grade silicone cake molds, silicone chocolate molds, custom Viton o-rings, silicone chocolate candy molds and more. At the show, we aim to showcase our capability and new designs especially."
About TOGOHK.com
Founded in 2003, TOGOHK has developed into a modern enterprise that offers its clients worldwide a one-stop silicone product solution from conception to delivery. With high technology engineering and advanced CAD and CAM, the company has been serving more than 3000 customers from over 70 countries. With offices in Shenzhen and Hong Kong, TOGOHK.com is offering the industry's most comprehensive platform of all kinds of silicone molds.
For more information about the business, please visit their website at: http://www.togohk.com/?gallery=silicone-cake-mould