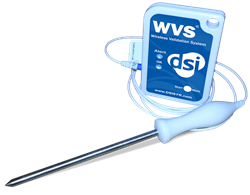 The WVS Training videos are a quick watch.
Syracuse, NY (PRWEB) September 30, 2013
DSI (Deadline Solutions, Inc.) announced the release of WVS (Wireless Validation System) in August of 2013. WVS is a new tool to use with LogTag recorders to monitor the Cold Chain and other environmental conditions. Today DSI announced that they have created a video training series that demonstrates how to use WVS. The WVS Training videos are a quick watch, focusing on only the essential steps needed to perform a LogTag WVS study. As the training library grows, additional videos will delve into the more advanced WVS features, showing the user all the ins and outs of the WVS system. The training videos are hosted on the YouTube and available to view on the DSI WVS Training-Videos page.
DSI offers the software as a free download and to protect the privacy of WVS users, DSI does not require any user information for the download. The software is fully functional with banner ads to help support development. DSI will also offer the software in a banner free version that comes with long-term support. DSI is close to releasing other WVS product options. Building on the WVS product line, DSI branded LogTags as well as support for cloud data will be available with in the year.
With WVS Cloud functionality, users can program, read and report on the LogTag recorders from PC all over the world linked via the internet. The cloud based WVS will be a great Cold Chain solution for the shipping and transport industries.
For the pharmaceutical industry, DSI will have available a complete set of validation documentation to support GMP and 21 CFR Part 11 by the end of 2013. The validation package will include specification and qualification documentation. DSI also offers complete validation services and WVS study services.
About Deadline Solutions, Inc.
Located in Syracuse, NY, Deadline Solutions, Inc. provides automation (DSC, PLC, SCADA) services, validation (21 CFR Part 11, cGMP Commissioning, Qualification, etc.) services, and custom software solutions to small and large companies. For engineering services DSI's team of engineers have experience with a wide range of platforms and standards like ABB and DeltaV Distributed Control systems (DCS), GE, Allen Bradley, Rockwell PLC/SCADA systems and many more. For validation needs the DSI validation team executes a wide range of commissioning, acceptance test, installation, operational, and performance protocols. DSI also integrates mobile devices such as iPhone, Android and BlackBerry, offers data analysis and reporting solutions for Oracle, SQL Server, MVC, SharePoint, Crystal Reports, InfoBatch and others. LogTag® is a registered trademark of LogTag Recorders Limited.
LogTag® is a registered trademark of LogTag Recorders Limited.