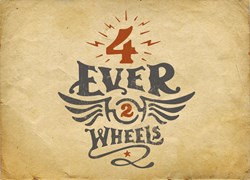 The web's first motorcycle photo blog, mobile app and podcast combination that brings enthusiasts "The Best of the Web on Two Wheels™."
Fort Collins, CO (PRWEB) September 30, 2013
4Ever2Wheels.com was inspired by technology to find the best motorcycle imagery and podcast guests and then share the results with like-minded enthusiasts. Launched during the 2013 Sturgis Motorcycle Rally® at the Broken Spoke Campground and Resort, 4Ever2Wheels™ has already posted over 3000 images of motorcycles and motorcycle related content as well as capturing over 30,000 online impressions in their first several months. The blog is updated every day with new galleries and is easily organized into specific image galleries with no confusing text, making 4Ever2Wheels "The Best of the Web on Two Wheels™."
The impetus for the web site came after a random internet search. Industry veteran, co-owner of 4E2W and sole proprietor of motorcycle marketing agency Rise Above Consulting, Ken Conte discovered a treasure trove of motorcycle images he had never seen before. "As I looked through images from a random motorcycle search, I realized I know only a tiny bit of motorcycle history. I looked further and it became apparent that other people who enjoyed similar images and could submit their own images and the idea for 4Ever2Wheels.com was born."
The other half of the company and the brains behind the blog design and supporting technology, Eric Byrd has an extensive background in programming and web development and was the vital link to the online design world that was needed for continued success. Kevin Carnes was the creative force behind the brand and is known as a significant influence behind the Sucker Punch Sally's brand as well as numerous other lifestyle brands. Kevin will continue to develop the brand and create additional designs to be included on new t-shirts, stickers and bandanas.
The 4Ever2Wheels.com Podcast was a natural progression for the blog and allows the host, Ken Conte, an opportunity to have long form discussions with notables in the motorcycle industry. There will be weekly podcasts featuring industry guests that will be up on iTunes within the next 30 days. The first two guest on the 4 Ever 2 Wheels Podcast are Michael Lichter and "Irish Rich."
In addition to the 4Ever2Wheels.com Blog and Podcast there will also be a mobile app that will launch before the end of the year. This app will allow users to peruse all the 4E2W galleries easily from their mobile device, with the desire to expand it to allow motorcycle enthusiasts to post their own photos to the web site.
4E2W would like to thank their sponsors Hot Leathers, KandGCycles, Precision Billet and the Broken Spoke Saloon for helping make 4Ever2Wheels a reality.
About 4Ever2Wheels.com: 4 Ever 2 Wheels is a motorcycle brand that brings the best of the web on two wheels to everyone online. It is an interactive blog and mobile app that allows users to consume and comment on unique motorcycle related imagery and submit their own pictures at info(at)4Ever2Wheels(dot)com.
Media Contact: Ken Conte 4Ever2Wheels (970) 227-3588 info(at)4Ever2Wheels(dot)com.