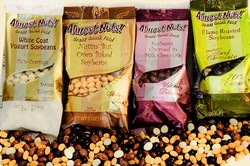 Denmark, WI (PRWEB) September 30, 2013
Almost Nuts! has begun rolling out their product in Woodman's Markets. The product is already placed in a few of the Woodman's locations and will soon be coming to other locations.
This is an exciting time for Almost Nuts! because it makes getting the healthy snack to their customers that much easier. It also will expose the product to new customers. Almost Nuts! encourages Woodman's customers to keep their eyes peeled as they begin to roll out in all of the stores.
Woodman's Markets is an employee-owned supermarket, based out of Janesville, WI operating stores in Wisconsin and northern Illinois. All stores feature two-three aisles of organic produce and grocery products. Woodman's stores also carry a wide variety of ethnic, gluten-free and vegetarian products, with a selection notably larger than most competitors. You can find Almost Nuts! in the health food department of the store.
Today, Almost Nuts! is proud to offer Oven Baked Soybeans, Milk Chocolate Covered Soybeans, White Coat Yogurt Soybeans, and Dark Chocolate Covered Soybeans. These delicious, healthy soybean snacks are sold wholesale and retail.