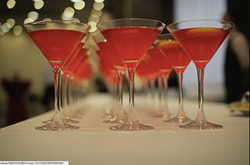 U.S. cranberries can ride the 'health wave' in Russia and make this a top market for exporters. - Erik Hansen, Agricultural Trade Office Director
Wareham, Massachusetts (PRWEB) September 30, 2013
US Cranberries representatives announced their first official appearance at World Food Moscow (WFM) 2013. Sixty-nine countries are represented at the exhibition and over 50,000 food specialists attend each year. WFM covers all sectors of the food industry including meat and poultry, fish and seafood; fruit and vegetables; confectionery and bakery; groceries; oils, fats and sauces; frozen products; preserves; dairy; tea and coffee; and drinks.
During the 4-day exhibition, Scott J. Soares, Executive Director of US Cranberries participated in a series of meetings and presentations with existing and potential buyers of US cranberry products from the confectionery bakery, snack, hotel, restaurant, institutional and fresh fruit sectors. The event culminated in a special presentation given at the Novotel Moscow City on September 17. Guests and professional trade media representatives were welcomed by Erik Hansen, Agricultural Trade Office Director, USDA Moscow and followed by Mr. Soares, who presented an introduction to the US cranberry industry, key facts about the fruit's characteristics, its versatility and the increasingly diverse product applications.
Mr. Soares explained the mission of his organization and its work on behalf of US growers. US Cranberries is also tasked with an extensive array of both generic domestic and international marketing initiatives. Summarizing the results of the Russian visit Mr. Soares said, "It was extremely important for us to visit Russia now and to meet potential partners in establishing a strong long-term relationship. We know that consumers in Russia are already very fond of their local variety cranberries. We are hoping to grow demand further by highlighting U.S. cranberries' proven health benefits and their broad product versatility."
A leading topic of import was the rising interest by Russians in U.S. cranberries. Since 2010 there has been a steady increase in annual export growth. Russian exports grew nearly 9% from 2012 and analysts project expanded opportunities in the Russian market. Over the course of the exhibition, participants had an opportunity to explore the unique taste, versatility and health benefits of U.S. cranberries. Research shows that North America's native cranberry is a good source of vitamin C fiber, and provides antioxidant polyphenols. For more information about U.S. cranberries in Russian visit http://www.us-klukva.ru.
"We have seen a strong trend growing in Russia for health foods as consumers are becoming increasingly aware of food products that provide certain health benefits. With continued educational and promotional activities, U.S. cranberries can ride the "health wave" in Russia and make this a top market for U.S. cranberry exporters. The future looks very bright for U.S. cranberries in Russia," said Erik Hansen, Agricultural Trade Office Director, USDA Moscow.
WFM visitors were introduced to wide selection of dishes and drinks made with cranberries. A favorite among guests was the chef's cranberry sorbet and parfait with chocolate Ganashe.
Cranberries officials believe that educating consumers will help increase demand for locally grown cranberries as well. "We look forward to being a good partner with the local industry to build a strong market for cranberries in general," added Soares.
Currently U.S. cranberries are available fresh, frozen and dried, as well in juices, jams and powder. For more information about U.S. cranberries visit US Cranberries official website http://www.uscranberries.com.
About US Cranberries - US Cranberry Marketing Committee (CMC):
The CMC was established as a Federal Marketing Order in 1962 to ensure a stable, orderly supply of good quality product. Authority for its actions are provided under Chapter IX, Title 7, Code of Federal Regulations, referred to as the Federal Cranberry Marketing Order, which is part of the Agricultural Marketing Agreement Act of 1937, as amended. This Act specifies cranberries as a commodity that may be covered, regulations that may be issued, guidelines for administering the programs, and privileges and limitations granted by Congress. For more information about the CMC, visit http://www.uscranberries.com. Follow at @uscranberries on Twitter and Like Cranbecravers on Facebook.