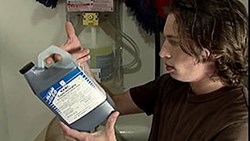 Novi, Michigan (PRWEB) September 30, 2013
The deadline to have employees trained on the Global Harmonizing System (GHS) and the Hazard Communication Standard is fast approaching. This deadline, December 1, 2013, is designed to have employees trained on new label elements and safety data sheets (SDS), in order to comply with the GHS. Mastery Technologies has released six industry-specific, Video On Demand courses covering GHS and hazard communication.
OSHA's Hazard Communication Standard and state laws exist so workers have the right know about the hazardous materials that exist in the workplace. The goal of these standards is to make sure employees have the correct information, training, and equipment needed to work safely around hazardous materials. Under the Hazard Communication Standard, chemical hazard information is communicated in three ways; Safety Data Sheets, container labels, and the facility-specific hazard communication program.
Mastery's industry-specific, hazard communication courses cover major topics including; appropriate personal protective equipment (PPE), chemical storage, and the ability to recognize spills and corresponding clean-up procedures. These courses are available on Mastery's third-generation, Video On Demand (VOD) platform, which allows courses to play on any mobile device or desktop computer.
VOD courses provide large images which appear sharp when viewed in a normal video window. Full screen display sizes are provided, delivering clear audio and sharp video, even when projected or displayed on HDTV screens. Video On Demand titles play on all devices, including desktops, smart phones and tablets. At $19.95 a play, the affordable and convenient courses easily create better understanding of procedures, allowing for a safer workplace.
Below are the new VOD course titles for hazard communication:
•Hazard Communication in Auto Service Facilities
•Hazard Communication in Cleaning and Maintenance Operations
•Hazard Communication in Construction Environments
•Hazard Communication in Healthcare Facilities
•Hazard Communication in Industrial Facilities
•Hazard Communication in the Hospitality Industry
About Mastery Technologies Inc.
Mastery Technologies established the e-learning industry's first Training Content Network. Mastery partners with leading video content providers to co-produce the largest, standardized, workplace e-learning library available. Mastery goes beyond connecting customers with content, by pro-actively supporting both customers and content partners. In this way, Mastery fulfills its mission of helping build more successful, effective and amazing organizations.