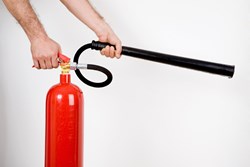 Lincoln, RI (PRWEB) September 30, 2013
Portable fire extinguishers are good for containing or putting out small fires until emergency services arrive on the scene. That's why Amica Insurance is offering tips for the proper use of fire extinguishers in the event of a fire.
According to the National Fire Protection Association (NFPA), however, you should only use a portable fire extinguisher "when the fire is confined to a small area, such as a wastebasket, and is not growing; everyone has exited the building; the fire department has been called or is being called; and the room is not filled with smoke." Otherwise, get to safety as quickly as possible.
The NFPA reminds everyone to remember the "PASS" method when using a fire extinguisher:

Pull the pin. Hold the extinguisher with the nozzle facing away from your body, then release the locking mechanism.
Aim low, pointing the hose at the base of the fire.
Squeeze the lever slowly and evenly.
Sweep the nozzle back and forth.
About Amica Insurance
Amica Mutual Insurance Co., the nation's oldest mutual insurer of automobiles, was founded in 1907. The company, based in Lincoln, RI, is a national writer of automobile, homeowners, marine and personal umbrella liability insurance. Life coverage is available through Amica Life Insurance Company, a wholly owned subsidiary. Amica employs more than 3,200 people in 40 offices across the country.
CONTACT: Vince Burks, Corporate Communications, 50 Amica Way, Lincoln, RI 02865-1155, 800-652-6422, ext. 24563
Twitter: Amica
Facebook: Amica Mutual Insurance Co.