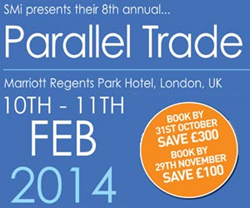 Invaluable conference that will help us in the area of parallel imports
London (PRWEB UK) 30 September 2013
SMi's 8th annual conference on Parallel Trade returns in 2014. The event will cover the latest regulation in the industry and offer guidance on compliance and best practice. Using data to manage parallel trade; anti-counterfeiting and competition law; building best practice processes; effective supply chain management; and differing perspectives from throughout the supply chain are just a selection of topics which will be featured. Leading pharmaceutical companies, legislative bodies and wholesalers will be speaking about their challenges and practical solutions to minimise loss and drive business performance. The event represents an excellent means for knowledge sharing and learning about case studies across the industry.
Senior management personnel will be speaking about their successes and analysing recent cases. This event promises to be a high quality practical event with plenty of opportunity for debate and offers you step-by-step guidance on the complex issue of parallel trade.
Key benefits to attend:
This 2 day event represents an excellent opportunity for delegates to hear from leading experts. Professionals from across the pharmaceutical industry and beyond will be in attendance. The diverse selection of speakers and delegates from around the world will give added value to this event, helping you manage your challenges and drive forward your solutions in a different and effective way. There will be unrivalled networking opportunities and space to reflect on your current business challenges.
Attend this event and learn the following:

Understanding legal parallel trade and the non-licensed supply chain
Challenge the differing perspectives on parallel trade
How to use data to manage parallel trade
Scrutinise effective supply chain management
Analyse how to build best practice processes driven by the impact of parallel trade
New for 2014:

How to comply with current and forthcoming pharmaceutical legislation
Gain a diverse perspective on parallel trade from Johnson & Johnson Diabetes Solutions Companies
Discuss the impact of government policies on parallel trade in Europe
Perspective of traders – putting the spotlight on best practice within industry
Kay panel discussion with LEO Pharma and Biogen Idec plus parallel trade industry experts Don Macarthur and Panos Kanavos
Key featured speakers:

Craig Stobie, Global Life Sciences Sector Manager, Domino Uk Limited
Dick Saunders, Commercial Manager, Johnson & Johnson Diabetes Solutions Companies
Eric Noehrenberg, Director, Public Affairs for Market Access, Shire Pharmaceuticals Group Plc
Hélène Juramy, Case Handler, European Commission
Janice Haigh, Practice Leader, Market Access, Quintiles
Joe Van Den Bergh, Director, Jeron Medical Limited
Maarten Van Baelen, Medical Affairs Manager, European Generic Medicines Association
Panos Kanavos, Reader, International Health Policy, London School of Economics and Political Science
Dimitrios Karageorgiou, Secretary General, Panhellenic Pharmacists Association, Greece
What last year's attendees said about the conference:
'Good topics, up to date' Novartis Pharma AG
'Janice Haigh's workshop was excellent' Merck
'Thought provoking, high energy and relevant' Ernst and Young LLP
'Very interesting, really good speakers' AstraZeneca
Plus attend a half-day post – conference workshop:
Parallel Trade management strategies, hosted by Janice Haigh, Practice Leader, Market Access, Europe, Quintiles Consulting. Wednesday 12th February, 8.30am – 12.30pm, Marriott Regents Park, London, UK.
For more information contact Fateja Begum on +44 (0) 20 7827 6184 or email fbegum(at)smi-online.co.uk