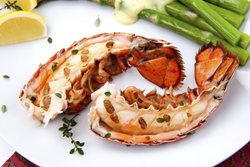 ...the lobster we received on our doorstep in Florida was even better than the lobster we ate in some of the nicest restaurants in New England.
(PRWEB) September 30, 2013
GetMaineLobster.com consistently works with lobster brokers to lock in the lowest prices on live Maine lobster and other seafood meals for delivery. This week, the live Maine lobster delivery service is offering fresh Maine lobster tails at a significant discount off of the standard retail price.
For only $129.00, a discount of $96.00, GetMaineLobster.com will ship 12 four- to five-ounce Maine lobster tails directly from dock to doorstep. Shipping is included in this one-of-a-kind offer. Lobster meat is not only delicious, but it is Paleo diet-friendly and lends itself to a wide variety of ways to prepare and serve to dinner guests. GetMaineLobster.com makes enjoying this Maine seafood specialty even easier by offering five simple ways to create an elegant meal with Maine lobster tails.
One of GetMaineLobster.com's most sought-after seafood items, fresh Maine lobster tails are easy to prepare and will satisfy even the most discriminating of appetites. Whether the lobster tails are served baked, grilled or broiled, the rich flavors will leave a lasting impression on dinner companions. The Maine lobsters are caught fresh each day and carefully hand-selected by Get Maine Lobster's experienced lobstermen. The lobster tails are then immediately flash frozen and delivered directly to the doorstep via two-day air, arriving on Wednesdays, Thursdays, Fridays and Saturdays.
"Share this company with your friends and family, because not only is the food incredible, the customer service was off the charts amazing," says Nicole, a GetMaineLobster.com customer from Florida. "I don't even know how to say thank you in a way that shows our appreciation for the level of service we received from this company. They truly went above and beyond! My husband and I recently went to Ogunquit and Kennebunkport, Maine, and the lobster we received on our doorstep in Florida was even better than the lobster we ate in some of the nicest restaurants in New England. You can't go wrong if you order from GetMaineLobster.com."
To learn more about GetMaineLobster.com, browse its wide range of seafood offerings, and to access lobster recipes or view current specials, visit GetMaineLobster.com or call (866) 562-4817. Stay updated and Like us on Facebook or follow us on Twitter. For even more lobster news and recipes go to JustAddLobster.com.
About GetMaineLobster.com
GetMaineLobster.com, a division of Black Point Seafood and Black Point Gourmet, hand-selects the finest Maine lobster, seafood and beef products for convenient distribution throughout the United States. Their passion is to make fresh, quality seafood readily available to customers across the country, which is why they buy from only the most trusted, well-established suppliers to ensure that they receive the finest products available.
GetMaineLobster.com was selected out of the more than four million small American businesses served by Chase bank to represent its new Platinum Business Checking product for its 2013 national advertising campaign.