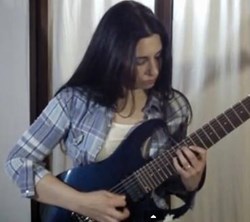 (PRWEB) September 30, 2013
Well-known for her blazing, shred guitar work, the Argentinean string wizard first shows how to play this sweep picking exercise very fast, using strings four and five of her Ibanez seven-string guitar. She zooms through Gm/D, Eb, Edim, F, F#dim, Gm, Ab, Adim, Bb and Bdim triads. The use of the diminished chords gives the licks a neoclassical, progressive metal flavor.
The sweep picking technique remains the same throughout: down-down-up, down-down-up. At first, the pattern seems nearly impossible, but when taken at slower speeds, it's actually quite easy. Alejandra obliges by playing the exercise next at a medium tempo, then at a slow tempo.
The guitar lesson includes a link to printable tabs written both in music notation and tablature for easy reading. Players will have a much better chance of success if they start slowly, working with a metronome to build up speed. After learning the basics, players should try adding riffs of their own to develop their personal style.
Hear more of Alejandra's masterful playing on recordings by the progressive metal band Inventio and on her own projects, which include full helpings of her sweeping, string-skipping and tapping expertise. Enjoy and learn more from Alejandra and all the teachers at Guitarcontrol.com in dozens of free lead guitar lessons at http://www.youtube.com/guitarcontrol.
GuitarControl.com, a leader in video music education, is the brainchild of ace Philadelphia guitarist Claude Johnson. Since 2004, it has offered online lessons and DVDs taught by virtuosos in styles ranging from rock, metal and blues to jazz, bluegrass, country and fingerstyle; as well as courses for vocals, drums, bass and keyboard; and music software, song collections and jam tracks.