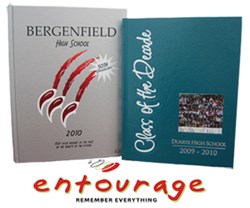 For how much we paid versus the quality of the printing, it was amazing!
(PRWEB) September 30, 2013
Taking a look at a company's customer testimonials is a great way to gain some insight as to how they conduct business. This can be a handy way to determine whether or not a business will be a good fit.
With the school year just beginning, educational institutions all over the country are starting to flesh out what they want to do for their yearbook this year. As one of the leading suppliers of custom made yearbooks, Entourage Yearbooks offers a comprehensive yearbook building experience, from start to finish.
Prospective customers interested in learning what to expect from Entourage Yearbooks can read what some of their previous yearbook customers have had to say about their experience. Customer testimonials are always a helpful tool to utilize when making a decision towards choosing a specific service provider.
The People Have Spoken: Entourage Yearbooks Is Top Notch
Yearbook shoppers from all over the country are raving about the service they've received from Entourage Yearbooks. Sherri Strauss from the Weston School in Manville, NJ had this to say: "The quality of the yearbooks were... Oh my god! For how much we paid versus the quality of the printing, it was amazing. Even when we received the proof book, everyone said it was so much better than last year. When we received the final books they were even better."
Entourage Yearbook's hands-on approach to handling business and quick-turn around has shoppers singing their praise. Robert Stratton from Atrisco High School in New Mexico writes: "Entourage Yearbooks has been a complete saver. If it wasn't for their exemplary service, our yearbook would have never turned out so amazing. So I want to say thank you Entourage for all of your hard work and amazing service. We will be back next year!"
Schools researching yearbook companies for a top service provider can find great information about the depth and scope of the company's offering by reading customer testimonials.
For more information about Entourage Yearbooks, call 1-888-926-6571 or visit the website at http://www.entourageyearbooks.com.
About Entourage Yearbooks:
As one of the leading yearbook production providers, Entourage Yearbooks offers their customers the very best in custom yearbook production and printing. With a number of services available for simple, straightforward yearbook creation combined with a great selection of yearbook designs and features, Entourage Yearbook is an affordable full service yearbook provider.
Contact Entourage Yearbooks:
745 Alexander Rd.
Princeton, NJ 08540
1-888-926-6571
http://www.entourageyearbooks.com/Contact