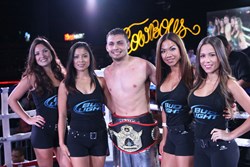 "Standing 8 does not just put on events, they put on events to help change lives and keep boxing alive," said boxing fan Roberto Montano.
Arlington, TX (PRWEB) September 30, 2013
When you imagine a boxing event, perhaps you imagine a scene from an old movie, a smoked filled room full of sleazy looking people, mostly men who are drinking, smoking and cursing. You probably wouldn't imagine the picture of a family of 3 generations of boxing fans cheering side by side. However, in reality J. Rock, his wife, daughter, and father-in-law are a good representation of the over 2000 fans, who attend every one of the Bud Light Pro Fights put on by Standing 8 Promotions throughout the DFW Metroplex. Jose and Ericka Escobedo, who attend all the fights with their three children, are also examples of the new DFW boxing fan.
So why are wives, children, grandparents, girlfriends, and young people steadfastly flocking in droves to boxing events in Arlington to a witness a sport many people today try to call a dying sport? It's because boxing is alive and well in DFW and flourishing at entertainment packed events put on by Standing 8 Promotions at venues like, College Park Center, COWBOYS Dancehall, The Hurst Conference Center, and the Fort Worth Convention Center.
By combining first rate pro boxing from Texas' rising boxing superstars like reigning Texas Super Welterweight Champion, Hector Vazquez from Irving, TX and Fort Worth powerhouse and media craze Tony Lopez with live Mariachi bands, country bands, pop vocalists, athletic celebrities, free massages, comedians, prizes, giveaways, and who knows what else they will come up with, Standing 8 Promotions puts on a show for everyone. As a result, boxing fans and people just out for an excitement packed evening keep coming back over and over again.
"I really believe that our fans are some of the most loyal sports fans on the planet," said Dustin Haney, boxing promoter and owner of Standing 8 Promotions. "They just keep coming back. They know us and we know them. They love our fighters and our fighters love them. It's like a big crazy boxing family," added Haney.
"Standing 8 puts on great fights and great shows. We've been to other boxing events but Standing 8 just puts on a better show," explained Ericka Escobedo. Not only are Standing 8's boxers more entertaining and exciting, the events also have great entertainment in between bouts. They make it fun for the whole family. The kids get into it too, so we don't need a babysitter to enjoy the fights. The fights are well matched also, so the boxing is just better," added Escobedo.
Part of the draw to the Standing 8 ring is the human interest side of the Standing 8 boxers. For example, there is Mike "Italian Stallion" Tufariello of Carollton, who draws huge crowds and lots of media attention for his Rocky Balboa-like boxing pro debut at 38 years old with 2 consecutive knock outs. There is also handsome James Dean-like, James DeHerrera, who the women love and whose thrilling fighting style has hints of his MMA background, and the charming Craig Callaghan from Liverpool England whose British charm and wit is only surpassed by his unmatched boxing skill. Fans also love to follow top national prospect Tony Lopez, who exploded onto the Dallas/Fort Worth boxing scene and into the media last year. Similarly, no one can bring a crowd to their feet like reigning Texas Super Welterweight champion and former Mexican Olympic Alternate Hector "El Diamante" Vazquez, who enters the Bud Light Pro Fight ring with a whole mariachi band and keeps the crowd on their toes through 8 rounds of consistent supercharged boxing.
"We started Standing 8 Promotions because we recognized that there was so much amazing boxing talent and skill in the DFW area. So we thought, why shouldn't the Dallas Fort Worth area be the place for a boxing revival? That became one of our goals. We didn't want to reinvent boxing, we love boxing. We just wanted to recharge it a little," explained Haney.
"Standing 8 is loyal to their fans; that's why the fans are so loyal. They come through for us. They listen to us and do what they say they are going to do. I have been a boxing fan forever and lots of fights get cancelled, but that's not the case with Standing 8. What I appreciate most are their matches. The fights are matched according to experience level so the fights are always exciting," said Robert Beckham a Fort Worth boxing fan.
"I've been a boxing fan my entire life and I've been going to the Standing 8 events since they started. They keep getting better and better because Standing 8 is so committed to boxing and to boxing fans. Their boxing events are better than other events because they want to give everyone who attends something to remember," said boxing fan Roberto Montano. "I like that Standing 8 events are more family oriented. It's like a community. I love the way Standing 8 staff members get out into the crowd and get to know all the fans. I also love the way they give local boxing talent opportunities. Standing 8 does not just put on events, they put on events to help change lives and keep boxing alive," added Montano.
Boxing fan Jose Escobedo summed up the boxing DFW boxing revival well. He simply stated, "Standing 8 brings boxing to life."
If you want to check out the new face of boxing, tickets are available for Bud Light Pro Fight 5 at http://www.standing8promotions.com. The event includes 7 bouts of world class professional boxing, which will take place at 5:00 p.m. on October 19th at COWBOYS Dancehall in Arlington. Doors will open at 4:30 p.m. The 7-bout fight card includes a Texas Super Welterweight Title Challenge as the main event. Reigning title holder, Hector "El Diamante" Vazquez of Irving, TX will battle it out with challenger Salvador Amir Roa of Austin, TX.
Since its inception last year, Standing 8 Promotions has gained prominence in the boxing world by staging consistent cards, competitive fights, exciting entertainment, and featuring some of the very best young talent in the state. For more information about this event or Standing 8 Promotions, go to http://www.standing8promtions.com.