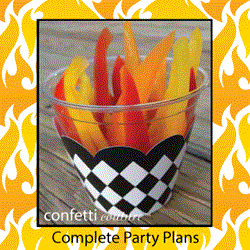 Entertaining should be fun, not overwhelming!
Fort Collins, CO (PRWEB) September 30, 2013
The newest release from Confetti Couture is a complete party plan filled to the brim with Fire Truck party ideas. The party company, based in Colorado, aims to lessen the pressure modern moms feel when trying to entertain for their child's birthday. With new, free party plans on their blog, the hostess can grab the best ideas, recipes, decorating ideas, and enough activities to keep the guests happily busy for hours without spending weeks scouring the web for ideas.
The Fire Truck Party ideas come with recipes, tutorials, supply lists, and instructions and are organized in an easy to use format. The entire party is planned, leaving just the fun part for the hostess to do! Janet McBride of Confetti Couture states, "Entertaining should be fun, not overwhelming!"
Every year, it seems that parties get more elaborate, even for the youngest of guests. Confetti Couture has made it their mission to help busy moms throw a party they are proud of, without the stress and enormous time commitment that has become the norm of entertaining recently. "We're focused on making it easy for hostesses, and helping them to WOW their guests at the same time," says Janet.
About Confetti Couture
Confetti Couture is an innovative manufacturer selling unique party supplies focused on the modern hostess. Offering an array of products that give the hostess a sophisticated, but playful edge on entertaining, Confetti Couture's hand designed art is what sets their products apart from the usual and expected party goods and brings personality to the party. The Confetti Couture website is a complete and creative planning resource for hosting a wedding, party, or any other event. http://www.confetticouture.com/