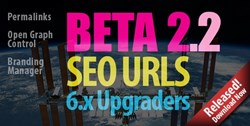 Beta 2.2 marks the beginning of the age of ecommerce and Loaded 7.
Atlanta, GA (PRWEB) September 30, 2013
Loaded Commerce has been expanding the definition of the CORE of Loaded 7. It will be the most feature packed free cart in the world. To that end Loaded Commerce is proud to release the next beta build. 7.0.2.2.
CEO and founder of Loaded Commerce, Salvatore Iozzia states, "I am very excited about the release of Beta 2.2 as it is a major development for both our customers and developers. With this release, merchants can now start building their site as it also offers the much-anticipated upgrade tool to convert existing 6.x store to Loaded 7. Beta 2.2 marks the beginning of the age of ecommerce and Loaded 7".
One of the hallmarks of Loaded Commerce has been their commitment to existing customers. They have always provided an upgrade path and upgrade tools for their products. Loaded 7 is no different. This release brings the introduction to the 6.x upgrader. The upgraders will process the 6.x data into the new 7.0 format seamlessly as well as convert product images into the new multi image format.
Also notable updates in Beta 2.2 are the SEO URLs with permalink structure and the Branding Manager, which allows merchants to customize the logo, contact information and more. Branding Manager also has the ability to manage SEO meta data in one place.
SEO URLs, once a Pro feature in 6.x is now in the free Loaded 7 core. It comes with the most advanced URL formatting and processing available today; the mighty permalink which uses unique text strings to identify products and categories in the URL.
Loaded 7 is a new complete eCommerce platform and software package offered by Loaded Commerce. Storeowners can download the latest version of Loaded 7 at http://www.loaded7.com or for a free demo, contact their marketing department at (216) 220-8766. Loaded 7 has been issued a GPL 2.0 license and is based on OSCommerce v/3 a4.