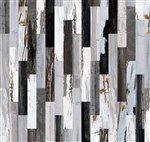 Wood You Believe It's Really Tile?
Nashville, TN (PRWEB) September 30, 2013
Wood-look porcelain tile collections are more popular than ever, and industry pro Mary Elizabeth Oropeza, president of national retailer/distributor Mission Stone & Tile, reports that latest manufacturing technology is a key reason.
"Technology has caught up with our design aspirations, so we're now able to offer tile that amazingly replicates the look of wood," says Oropeza. "From collections that are convincing mimics of wood to more interpretative styles that take inspiration from wood details, we sell products that have the appearance and performance people want."
The tile industry has previously attempted wood looks in effort to answer the demands of designers and homeowners seeking tile's superior performance yet wood's warm, textured style. Past collections rarely achieved both the look and feel, but today's offerings go far beyond their predecessors.
"We see authentic colors and details, even plank sizes," Oropeza explains.
Mission Stone & Tile offers 24 wood-look tile options covering a range of finishes, sizes and grains. Lines include Provenza Crosscut that captures the appearance of wood rings, Urban Timber Lignes—available in rich, modern colors and 6"x24" planks, and the Wow collection featuring two mixed finish colorways. Additionally, Mission's Oro Italiano line has a more interpretative wood appearance crafted for contemporary decor.
Mission Stone Tile's newest release is Coem's Old Wood Tile in 8"x48" Planks in the Maple Beige and Cherry Brown colorways.
All of Mission's wood-look porcelain lines are suited for residential and commercial installations. Durable, dense porcelain tile bodies withstand heavy traffic and resistant moisture to perform beautifully in places where real wood would not be an option.
"You can enjoy wood's warm look in the bathroom, in the mud room...in so many places real wood would not perform well" reports Oropeza. "The design possibilities are exciting."
To discover Mission's full wood-look offering, visit http://www.missionstonetile.com, and search "wood look porcelain."
---
About Mission Stone Tile
Mission Stone & Tile is a premiere importer and distributor of natural stone, ceramic, and porcelain tile collections, founded by tile industry veteran and interior designer Mary Elizabeth (Hulsey) Oropeza. Mission Stone & Tile is the culmination of 20 years expertise in stone and tile, grounded in a commitment to meet the needs of designer, architectural, builder and contractor clients.
Mission Stone & Tile showrooms are true design resource centers - light, open spaces filled with samples to inspire custom designs.
Locations are open weekdays between 8:30 and 4:30. Mission Stone & Tile's online store is accessible anytime at store.missionstonetile.com.
Mission Stone Tile- Headquarters
2930 Sidco Drive
Nashville, TN 37204
T: [615] 244-6448
F: [615] 244-6508
E: info(at)missionstonetile(dot)com
Mission Stone Tile- A Tile Showroom in Chattanooga, TN
55 East Main Street Ste 102
Chattanooga, TN 37408
T: 1-877-529-8453
E: chatt(at)missionstonetile(dot)com