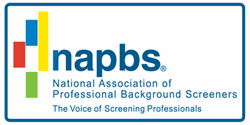 HireSafe as a life-long partner and founder wishes the NAPBS many more great years to come.
Elk Grove, CA (PRWEB) September 30, 2013
The National Association of Professional Background Screeners (NAPBS) has just recently celebrated its tenth year anniversary. In those ten years, the NAPBS has brought together an industry facing increased state and federal legislation to become largely self-regulated in order to further client relations, maintain standards of excellence, and help legislators, regulators and law makers to become educated in the matters of pre-employment screening. A truly noble goal, one birthed from the criticism background checking sometimes receives and the necessity the industry presents to both businesses and government in modern day functioning.
As one of the founding members, HireSafe could not be more proud of its association with the NAPBS. The company's eye for excellence in pre-employment screening and commitment to delivering accurate background checks has only been furthered by the NAPBS, while also pushing other companies to this same pursuit. Helping to ensure that member companies are meeting a level of excellence depicted and expected among pre-employment screening agencies is a primary goal for the organization as a whole. It not only furthers its own pursuits, but maintains the image pre-employment screening needs and pushes for friendly competition between member business leaders.
One of the most important pursuits the NAPBS founders envisioned for the organization was that it primarily be an educational tool, not just for member companies, but for society at large. Politicians, media outlets, and for anyone willing to listen; education and public outreach is why so many in the pre-employment screening industry came together. The founders recognized a unified voice is much better than many different ones echoing off of one another clamoring for media attention.
As a result, ten years after its founding, media sources directly contact the NAPBS regularly for information and perspectives on particular issues impacting the background screening industry. All of this has given the pre-employment screening industry the opportunity for consistent messaging opportunities and promotion of the goals and Mission of NAPBS, including education, accreditation and FCRA Certification.
Through its tenure, the NAPBS has accomplished much and more, the list of which is long and astonishing. Major highlights include: the development and roll out of a Providers Certification, Accreditation Program, and FCRA Basic and Advanced Certification. Not to mention winning many major litigation battles, some of which are more notable than others. When the use of credit reports was challenged in the hiring process through the EEOC Guidance, the NAPBS testified in front of the U.S. House Financial Services Subcommittee to ensure its use continued.
There are so many wonderful things the NAPBS has done to ensure that pre-employment screening companies can provide excellent and comprehensive services to their clients over the last ten years. HireSafe as a life-long partner and founder wishes the NAPBS many more great years to come.
HireSafe is one of the nation's highest ranked background screening companies, rated A+ by the Better Business Bureau. In operation since 1997, HireSafe is a full-line provider of Human Resource solutions, including Employment Background Screening, Drug Testing, Form I-9 Document Management with E-Verify and Applicant Tracking including Social Network Recruiting. As a CA licensed Private Investigative Agency (PI #25313), HireSafe provides only responsible, professional and FCRA compliant reports to their clients.