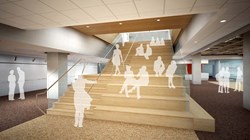 The students coming out of the 21st Century learning environments we design are demanding the same sort of progressive work space environments.
San Diego, CA (PRWEB) September 30, 2013
As students set off on their lifelong journey of learning, today's K-12 school environments are being designed to inspire young learners and educators. Interestingly, corporate leaders are also paying attention to design trends for green schools, as they become increasingly focused on providing progressive work environments for their present and future staff.
The first step with any project, whether a 'greenovated' 21st Century school or a high-rise corporate office, is to sit down with the client and learn about their educational or professional approach, internal culture and goals for the space.
"It's really about user-driven solutions," relates LPA Associate Kate Mraw, CID, LEED AP BD+C, "shaped by pedagogy and combined with the influences of changing technology and the millennial population."
A tremendous living laboratory that showcases the latest in green schools sits in the heart of Downtown San Diego. This dynamic region is a hub for forward-thinking and creativity. The city provides the ideal setting for groundbreaking practice in architecture, engineering, communication and education.
On Sept. 3, e3 Civic High celebrated the debut of the high tech school in a ribbon cutting ceremony. Their mission is simply stated in the name 'e3', which stands for engage, educate and empower. Founders of the charter school seek to not only fill a need in providing the San Diego community with an accessible educational resource, but to do so in a way that organically pushes the limits on the definition of a classroom. Thus, e3 Civic High was embedded within the new San Diego Central Library.
The concept for e3 Civic High was not to just think outside the box, but actually to ignore the box. Embracing an urban education means students need a home base, somewhere to gather inspiration, share with peers and edit or publish their findings. The co-location of a school within a library offers extensive collaboration opportunities, as both support lifelong learning and literacy. The relationship between community and education is strengthened, and Downtown San Diego becomes another classroom.
"Our goal is to inspire students to enjoy the learning and collaborative process, enabling them to be more engaged and successful throughout their educational career, eventually leading them to the career of their choice," states Mraw.
Tracking LEED Gold certification by the U.S. Green Building Coalition, e3 Civic High's sustainable design principles are centralized around three concepts: personalization, social connections and flexibility. Part and parcel of this effort is infusing educational spaces with a certain level of fluidity and flexibility to support a variety of learning and social activities, while implementing sustainable features like highly recycled and low maintenance materials, highly efficient building systems and open areas having multiple uses.
"We're designing in the ability for students and teachers to personalize the experience within these spaces so that they can effectively work for the activity that is happening at the moment," she explains.
These progressive educational environments also bridge and directly relate to evolving cultural needs of the corporate world of progressive offices demanded by our corporate clients.
"The students coming out of the 21st Century learning environments we design are demanding the same sort of progressive work space environments," observes LPA Principal Dave Gilmore, AIA, LEED AP BD+C. "We are integrating these very attributes of flexibility, collaboration and creativity into San Diego's progressive corporate offices, as we design for today's students who are being educated in this type of learning environment."
Lifelong learning begins the moment that a young child begins attending school, continues throughout his or her educational years and eventually leads that young adult into the workplace where a collaborative, teamwork-based work culture is becoming the norm. Ultimately, this is the driving innovation in the way that today's educational and corporate facilities are being designed.
For interview opportunities with LPA Design Principal Dave Gilmore or Associate and Interior Designer Kate Mraw, please use media contact: Courtney Tarnow at (949) 701-4146 or ctarnow[at]lpainc[dot]com.
About e3 Civic High
The mission of e³ Civic High is to engage the students of urban San Diego in a successful high school experience by providing a meaningful college and career preparatory education focused on a broad spectrum of 21st Century literacy. We will achieve this mission by ensuring personalized learning partnerships for each student, both at school and in the community, that foster their self-worth, individual passion, creativity, and ability to lead in service to others.
About LPA Inc.
Founded in 1965, LPA has nearly 200 employees with offices in Irvine, Roseville, and San Diego, Calif. The firm provides services in architecture, sustainability, planning, interior design, landscape architecture, engineering, and graphics. There is no "Sustainability Director," at LPA. Instead, more than 80% of the professionals are LEED accredited, including the Human Resources Director, CFO, and several other support staff. With extensive experience in public and private architecture, LPA designs a diversity of facilities that span from K-12 schools, colleges and universities, to corporate and civic establishments. More than 500 major design awards attest to LPA's commitment to design excellence. For more information, visit LPAinc.com.