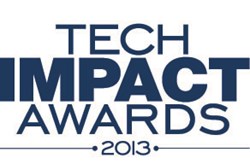 Receiving awards like this not only validates the work we've done, but inspires us to do more.
Bellevue, WA (PRWEB) September 30, 2013
Smartsheet, the popular spreadsheet-inspired collaboration tool used by millions of people worldwide, was recognized as a 2013 Tech Impact Award winner in the Productivity category. Each year the respected Seattle Business magazine honors the important achievements and contributions made by creators and leaders of technological innovations that improve and affect how we live and do business.
This year the annual Tech Impact Award event took place on Sept. 26 at the Renaissance Seattle Hotel where Mark Mader, president and CEO of Smartsheet, accepted the award on behalf of Smartsheet.
"We're fortunate to work in a very innovative and progressive tech community and are honored to be recognized," Mader said. "This award is the result of our commitment to creating an intuitive and easy-to-use solution, which millions of workers worldwide rely on to improve collaboration, manage projects and increase productivity. Receiving awards like this not only validates the work we've done, but inspires us to do more."
Companies submitted nominations across 12 categories, including gaming, marketing, education and analysis. A panel of tech-industry experts served as judges, selecting a winner and silver award recipient in each category. Other winners include PayScale, Tableau Software, INRIX, Zillow, Simply Measured and DreamBox Learning. More details are at seattlebusinessmag.com.
Teams in more than 150 countries use Smartsheet to organize, plan and execute a broad spectrum of projects and ongoing processes, including product launches, business operations, sales pipelines, marketing campaigns, strategic planning and HR initiatives. Smartsheet is deployed in a broad range of customer environments, from large enterprises including HomeAway, DHL, Toshiba, ESPN, Sony Music and MetLife to small and medium-sized organizations such as Eli Lilly Federal Credit Union, Loyola University and Cypress Grove Chevre. For more information, visit http://www.smartsheet.com/customers.
About Smartsheet
Smartsheet, a leading Software as a Service (SaaS) company, offers businesses an intuitive online collaboration tool. The ease of use of the familiar spreadsheet-like interface, coupled with file sharing, work automation and Gantt chart features, have made it a popular and highly functional collaboration and project management tool for nearly 2 million users. Customers include construction companies, consulting firms, schools and universities, utility firms, government entities, healthcare organizations, high-tech firms, non-profits, manufacturing and law firms, among others. Visit http://www.smartsheet.com for more details.
###