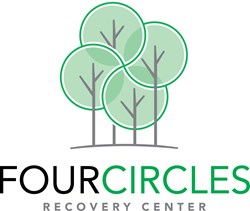 Horse Shoe, NC (PRWEB) September 30, 2013
Four Circles Recovery Center, a state-of-the-art wilderness-based addictions, substance abuse and co-occurring mental health disorders treatment program, recently provided hands-on ropes course consultation and clinical training for the new General Colin Powell Challenge Course at the Breds Treasure Beach Sports Park& Academy in Jamaica. The new ropes course will serve at-risk youth as well as sports program participants and corporate groups.
Four Circles collaborated with C4 Recovery Solutions on the project. C4 is an organization dedicated to conferencing, collaborating, convening, and consulting as part of its mission to develop strategies for increasing access to quality addictions treatment.
"Four Circles was selected for consultation and training because we have vast experience and success with our ropes course program," said Four Circles Executive Director Jack Kline, MS, LPC, LPCS, LCAS, CCS. "We have played a large part in the Jamaican ropes course's planning process including the selection of an efficient course, facilitating the purchase of appropriate building materials, and the development of clinical training and competency criteria for the facilitators."
The new ropes course facilitators attended a week-long clinical training led by Kline at the Rutgers Institute of Addiction Studies' Summer School program in June. Jhanille Brooks of RISE (Recovery Initiative Social Enterprise) Life Management Services and Victor Ebanks of Breds Treasure Beach Foundation then participated in hands-on practical application training led by Four Circles Program Director Dr. Melanie Weis, Ph.D., LPC, LCAS, at the Four Circles property in July. Brooks and Ebanks spent several days participating in ground, low and high ropes initiatives. They also spent time with Four Circles Recovery Center's clients and facilitated a two-day multi-family experiential workshop.
"This experience has been quite enriching for us and we know that we will use the information to positively impact lives in Jamaica," said Brooks.
The ropes course, scheduled to open next month (October), is being built by the Jamaica Defence Force on land donated by Jamaica's Jakes hotel, and will be run by the non-profit Breds Treasure Beach Sports Park and Academy and RISE. The sports park was created by the Treasure Beach community and local and international donor agencies to help spark tourism. General Colin Powell is expected to attend the grand opening celebration, along with select staff from Four Circles.
About Four Circles Recovery Center
Four Circles Recovery Center is an innovative, state of the art addictions, substance abuse and co-occurring mental health disorders treatment program for young adults ages 18 to 28 that combines a traditional counseling setting with a series of wilderness expeditions. Four Circles employs the most effective, cutting-edge clinical modalities from highly skilled masters and doctorate level professionals, with an underlying traditional 12-Step philosophy to create the foundation for sustained recovery.
Four Circles Recovery Center is a program of CRC Health Group, the nation's largest and most comprehensive network of specialized behavioral health and addiction services. CRC offers the largest array of personalized treatment options, allowing individuals, families, and professionals to choose the most appropriate treatment setting for their behavioral, addiction, weight management and therapeutic education needs. CRC is committed to making its services widely and easily available, while maintaining a passion for delivering advanced treatment. Since 1995, CRC programs have helped individuals and families reclaim and enrich their lives.