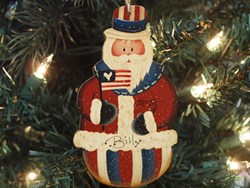 Affordable Handcrafted, Heirloom Seasonal Ornaments.
Punxsutawney, PA (PRWEB) September 30, 2013
Those looking for unique holiday gifts need look no further than the Gingerbread Angel. Artist Deborah Fleckenstein has added over 60 new ornaments to her line of affordable handcrafted, heirloom seasonal ornaments.
These beautiful winter and holiday ornaments feature snowmen, gingerbread men, angels, Santas, and more. Each ornament can be personalized with the names of children, grandchildren, friends, and families, making them treasured pieces that can be passed down from generation to generation. All ornaments are handcrafted from start to finish by Deborah and her husband, Jim.
The Gingerbread Angel also includes a line of groundhog ornaments, pins, and magnets, featuring Punxsutawney Phil, Pennsylvania's weather-predicting groundhog.
The Gingerbread Angel will be at the Apple Fest - Franklin PA OCt 4 -6 and SSCD Christmas Bazaar - Saints Cosmas and Damian School Auditorium, Punxsutawney, PA on November 23. Other upcoming shows include John Macmillan - Macmillan Presbyterian Church, Bethel Park, PA- November 2nd, 2013. PA Arts and Crafts Christmas Festival - Washington Fair Grounds, Washington, PA. - October 18th, 19th and 20th; 26th and 27th, 2013, and the Winter Craft Market - Mount Nittany Middle School, Boalsburg, PA on December 7 and 8.
Ornaments, pins, and magnets are available online at http://www.gingerbreadangel.com.
The Gingerbread Angel has been handcrafting ornaments for over 25 years and prides itself on the fine craftsmanship and quality of each piece. All ornaments are made in the USA.
For more information about the Gingerbread Angel, visit http://www.gingerbreadangel.com.