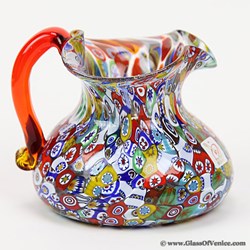 GlassOfVenice.com offers amazing authentic Murano Glass products created in Venice by some of the best artists and craftsmen, whose families have been making artistic glass for generations.
Glen Rock, NJ (PRWEB) September 30, 2013
GlassOfVenice.com, the U.S.- based importer and distributor of authentic Murano Glass, is making online shopping for Murano Glass even easier with the introduction of its new free shipping option on all U.S. orders over $49, as well as affordable international shipping. GlassOfVenice.com offers amazing authentic Murano Glass products created in Venice by some of the best artists and craftsmen, whose families have been making artistic glass for generations. Exquisite and beautiful Murano Glass jewelry, tableware, goblets, sculptures, vases and even chandeliers sold on the company's website are hard to spot even in Venice itself, and almost impossible to find outside of Venice.
In the past, finding quality Murano Glass online was a frustrating experience that involved searching through lots of cumbersome poorly-translated Italian websites virtually without any customer service, getting products shipped from Italy, waiting a long time for them to arrive, and being stuck with them even if they didn't work out. Not anymore. With GlassOfVenice, now anyone can buy high-quality authentic Murano Glass on an easy-to-navigate website with lots of photos and good descriptions, and friendly English-speaking customer service representatives answer any questions right away by phone, online chat, or e-mail. Returns are easy and are accepted with no-questions-asked for 30 days from the date of receipt.
But the greatest thing is that most products are in stock and ship quickly from the U.S. The Company's spokesman shares: "Murano Glass is naturally very fragile, so even something light or inexpensive needs to have many layers of wrapping and padding around it and has to be shipped in heavy corrugated boxes in order to arrive safely to its destination. Because of this, shipping fees can really add up and lead to higher totals. With our newest offer of free shipping on all U.S. orders of $49 or more it is now much more economical to purchase our products versus the competition, and there is no need to worry about the high shipping costs."
GlassOfVenice's international customers will also get a great deal with international shipping costs starting at only USD $7. Moreover, for its customers in Canada, Australia, the U.K. and European Union, GlassOfVenice.com will offer a greatly improved shopping experience with all prices shown in their local currencies for their convenience. The Company has plans to expand these improvements to more countries and regions in the near future.
As Christmas Shopping season is approaching, GlassOfVenioce.com makes it very easy and convenient to buy exclusive authentic Murano Glass gifts right from the comfort of your own home, no matter where in the world that is. Beautiful Murano Glass with its centuries-old history, unique artistry, romantic appeal and roots in glorious Venetian past is a great choice for gifts that will be treasured for years and become family keepsakes, and GlassOfVenice staff works very hard to source the best pieces from the most talented Murano Glass artists of our times.
About GlassOfVenice
GlassOfVenice is a U.S.-based company focusing solely on direct import and worldwide distribution of authentic Murano Glass. The company was founded by visionary businessmen with passion for Italy and Venice and appreciation of Venetian artistic heritage, which today is best demonstrated in famous Murano Glass. GlassOfVenice imports all its products directly from Venice and offers the full range of Murano Glass produced by the Island's artisans from jewelry and accessories to tableware and home décor, including vases, sculptures, and chandeliers. The products can be purchased on the company's full-featured and user-friendly website http://www.GlassOfVenice.com. Paypal and all major credit cards are accepted; gift-wrapping and worldwide shipping is available from the U.S.-based warehouse.