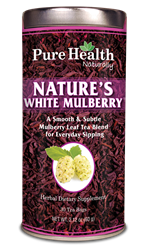 Las Vegas, NV (PRWEB) September 30, 2013
Pure Health, a leading national high-quality health supplement company, announced today the launch of its new White Mulberry superfood lineup, including Nature's White Mulberry Tea bags and White Mulberry capsules. As seen on TV, the White Mulberry superfood is believed to support overall health and is recommended to consume before and during meals.
Pure Health's White Mulberry Nature's Tea bags contain only white mulberry leaves and absolutely nothing else added. Delivering a smooth, subtle flavor, the new mulberry leaf tea was formulated to be served piping hot or poured over ice for a refreshing tea blend that is ideal to accompany meals or dessert. Every decorative tea tin provides 30 white mulberry tea bags, and is offered at a great value.
Additionally, today Pure Health also launched a new White Mulberry vegetarian capsule supplement, which delivers 400 mg of mulberry leaf powder in every serving and contains absolutely no binders, fillers or excipients. More convenient than a tea bag, the Pure Health White Mulberry supplement is recommended about 30 minutes before meals with a glass of water.
White Mulberry is one of today's hottest superfoods, but has traditionally been a part of health and wellness for thousands of years. The White Mulberry (Morus Alba) is native to Northern China, but today is grown around the globe. White mulberry has been used in traditional Chinese and Indian health practices for centuries, and has been thought to cool and tonify the blood. It and is still prescribed by Chinese healers today.
Pure Health offers the health benefits of white mulberry in two easy-to-use products: prepackaged tea made from natural, dried white mulberry leaves and convenient vegetarian capsules. As with all Pure Health supplements, there are no any binders, fillers or excipients.
About Pure Health
Pure Health prides itself as a health company with a heart that is passionate about food-based products. We separate ourselves from other "latest fad" supplement companies with our high standards and mission. Visit Pure Health at http://www.PureHealth100.com for more information about the benefits of White Mulberry, as well as our line of products to support healthy weight management and our other nutritional dietary supplements.*
*These statements have not been evaluated by the food and drug administration. These products are not intended to diagnose, treat, cure or prevent any disease.