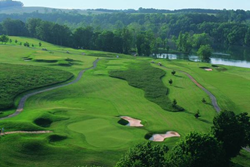 We think of everything, so all you have to think about is golf.
Pigeon Forge, TN (PRWEB) September 30, 2013
On September 30, Hearthside Cabin Rentals announced that it will offer exclusive golf packages to guests at their Pigeon Forge and Gatlinburg cabins.
"Our packages make your day on the golf course completely stress free," said a spokesperson for Hearthside Cabin Rentals. "After helping you choose the right course we will schedule your tee time and collect the payment. We think of everything, so all you have to think about is golf."
To provide these golf packages, Hearthside Cabin Rentals has partnered with local golf courses including Bent Creek Golf Village, River Islands Golf Club, Sevierville Golf Course, Patriot Hills Golf Course, and the Dandridge Golf and Country Club.
The Bent Creek Golf Village was named one of the "Top Fifty Golf Courses in the South" by Southern Living Travel Guide. This par 72 course was designed by three time Masters and British Open Championship Winner Gary Player.
The River Islands Golf Club was awarded a 4 star rating by Golf Digest. This 7,000 yard course runs along the edge of the French Broad River. Three islands in the middle of the river make up key sections of the course.
Golf is one of the major sources of tourism in the Great Smoky Mountains during the fall months. The popularity of the area is often attributed to the region's balmy weather, changing leaves and varied terrain. Hearthside Cabin Rentals has accommodated golfers visiting the Smoky Mountains for over ten years.
Hearthside Cabin Rentals and Property Management offers a variety of cabins in Gatlinburg, Pigeon Forge and Sevierville, Tenn. Hearthside Cabin Rentals is family owned and operated, calling the Smoky Mountains home since 2003. Along with their 25 employees, owners Daniel and Janice McAllister work to ensure guests feel more like family than customers. All offices are located at 702 Wears Valley Road, Pigeon Forge, Tenn., and are open Monday- Friday 9 a.m.- 9 p.m. and Saturday-Sunday 9 a.m.- 8 p.m. For additional information, or to reserve a cabin, visit their website at http://www.hearthsidecabinrentals.com, or contact Hearthside Cabin Rentals by phone at 1(888) 993-7655.