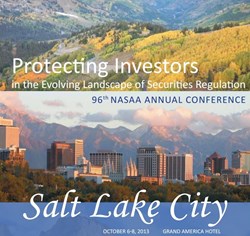 "Remedies and Recompense: An Examination of Securities Arbitration and Class Action."
(PRWEB) September 30, 2013
Robert S. Banks Jr, an investment fraud attorney from Banks Law Office in Portland Oregon, is a panelist at the annual conference of the North American Securities Administrators Association (NASAA) on October 6 - 8, 2013 in Salt Lake City, Utah. Mr. Banks will participate on the panel entitled, "Remedies and Recompense: An Examination of Securities Arbitration and Class Action" October 7. The panel of six is moderated by Maine Securities Administrator Judith Shaw and includes securities law experts from academia, private law practice, and US and Canadian securities regulation. The panel will examine the fairness of the FINRA securities arbitration process and recent developments. One topic scheduled for discussion is Charles Schwab's efforts to prohibit its customers from participating in class action cases as reported in the New York Times . The panel will also address recent attempts to curtail investor rights by including provisions in corporate bylaws and private placement offerings that require investors and shareholders to arbitrate any claims, dictate that claims be filed in foreign jurisdictions, and require investors to waive their rights under their state securities laws. The panel will also look at positive developments, including the proposed Arbitration Fairness Act of 2013.
The theme for the 2013 NASAA conference is "Protecting Investors in the Evolving Climate of Securities Regulation." Attendees can also look forward to other timely panel discussions including, "Addressing the Demand for Liquidity in Privately Placed Securities," and "Reclaiming Federalism: State Oversight of Small Offerings."
The state and provincial securities regulators who comprise the membership of NASAA have protected investors from fraud for 100 years. Mr. Banks is honored to be invited once again to participate on a NASAA panel. Banks Law Office supports NASAA and its mission to protect investors throughout North America.